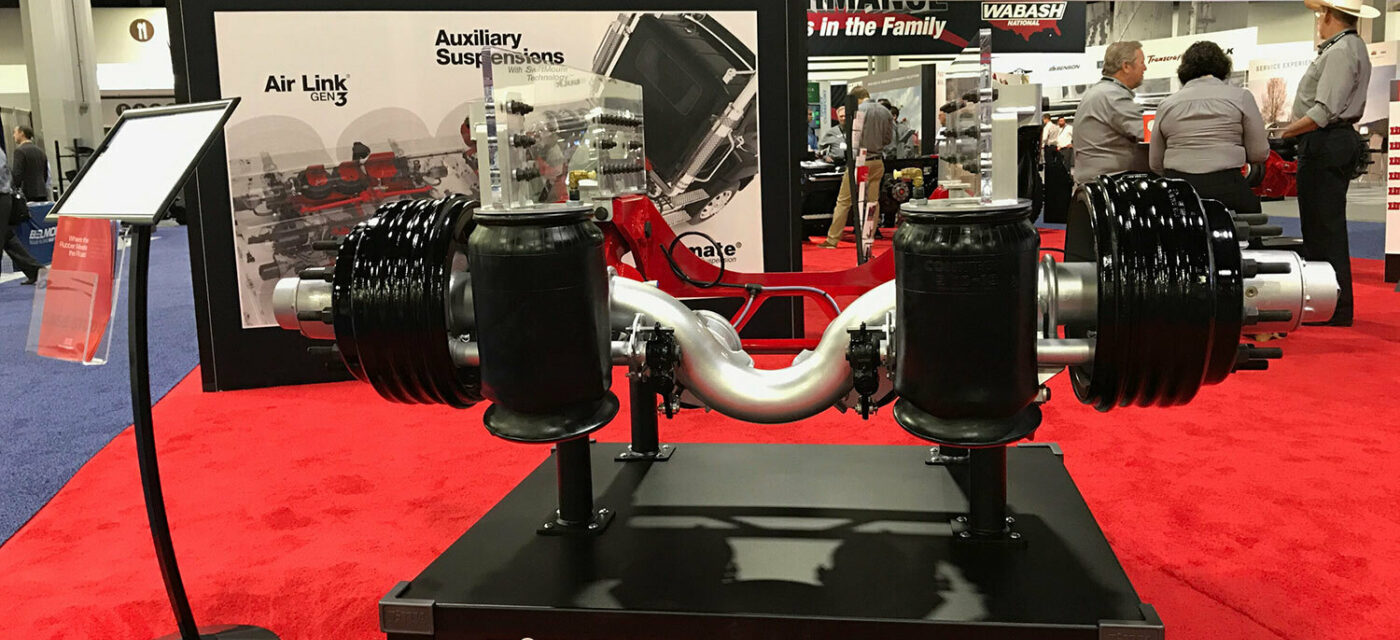 Wrapping Up Run on Less At NACV
Our team of Link executives, engineers and sales professionals recently returned from the North American Commercial Vehicle Show (NACV) in Atlanta. This inaugural event featured leading manufacturers of commercial and specialty vehicles – as well as producers of parts and components – exhibiting their newest technologies and innovations.
Link used NACV to showcase our new line of Auxiliary Suspensions featuring Swift Mount brackets. We continue to demonstrate our commitment to the 6x2 liftable pusher concept and demonstrated a Link solution on our test vehicle. We believe our display of technology will vastly improve the ride performance for drivers and fleets. Of course, we also featured our 180-degree Swivel Ramp, perfect for loading and unloading any sized cargo. We received a number of comments from visitors to our booth who were impressed by the breadth of solutions we offer and the sophistication of our products.

Joel Morrow's Strong Performance in Run on Less
One unique aspect of NACV was the press conference kicking-off the event that announced the results of the Run on Less demonstration. Over a seventeen-day period and 50,107 miles driven, the seven trucks participating in the demonstration achieved an average of 10.1 MPG. This calculates out to a savings of 2,877 gallons - or $7,193 in fuel costs. The results exceeded the original 9 MPG goal set by hosts Carbon War Room (CWR) and the North American Council for Freight Efficiency (NACFE).
If you read my most recent posts, you know the Link 20K pusher axle was major component of the Volvo®/Mack® 6x2 configuration Joel Morrow was driving. Joel averaged 10.5 MPG while running at an average 51 MPH, but more context is needed to truly appreciate his performance. Joel averaged more than 140 tons per gallon – defined as payload moved – which was the highest of any of the drivers. Simply put, he hauled the most weight and still had one of the most fuel-efficient trucks participating in Run on Less.
What became apparent after speaking with Joel and others involved with Run on Less is the skill of the driver plays an important role, not just the technologies used. While the original 6x2 configurations to hit the U.S. market featured tag axles and left a lot to be desired, we are proud to be involved in proving that the right technology with a trained driver, today's 6x2s featuring pusher axles provides considerable fuel efficiencies and extended tire life.
The NACV show was a great opportunity to meet with customers, make new connections, and learn about new technologies and showcase what driven to outperform means at Link. We're looking forward to returning to the event in 2019.

Blog Author
Michael Hof
Retired Vice President of Business Development