Link's family of auxiliary suspensions provide distinct advantages of convenience and performance for body builders, fleet owners and drivers. Industry best lead-times, quick installation and responsive customer support, combined with the reliability and durability Link is known for, results in limited down time and a lower overall cost of ownership. Click here for the auxiliary suspension ordering guide.

Self-Steer
Available in 8K, 10K, 13.5K (drum or disc brake option), and 20K capacities, Link's newly improved family of self-steer auxiliary suspensions enhances the performance, strength and uptime of work trucks and heavy-duty vocational vehicles.
View Product Details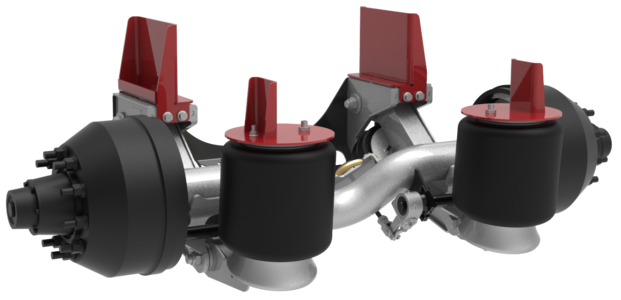 Non-Steer
Our Non-Steer lift axle is available in 13K, 17K and 20K capacities. The Non-Steer 20K Lift Axle, for tag or pusher positions, incorporates several patented features for easier installation, increased stability and durable performance. The unique design of the Model 5500 allows 11'' to 15'' of ride height and 15'' of travel, making it outstanding for tag position applications encountering uneven terrain.
View Product Details
6x2 Lift Axle
The 6x2 non-steer lift axle is available as a factory install with Volvo and Mack. The 20K lift axle suspension puts you in the ideal position to improve fuel efficiency, traction, and tire life.
View Product Details