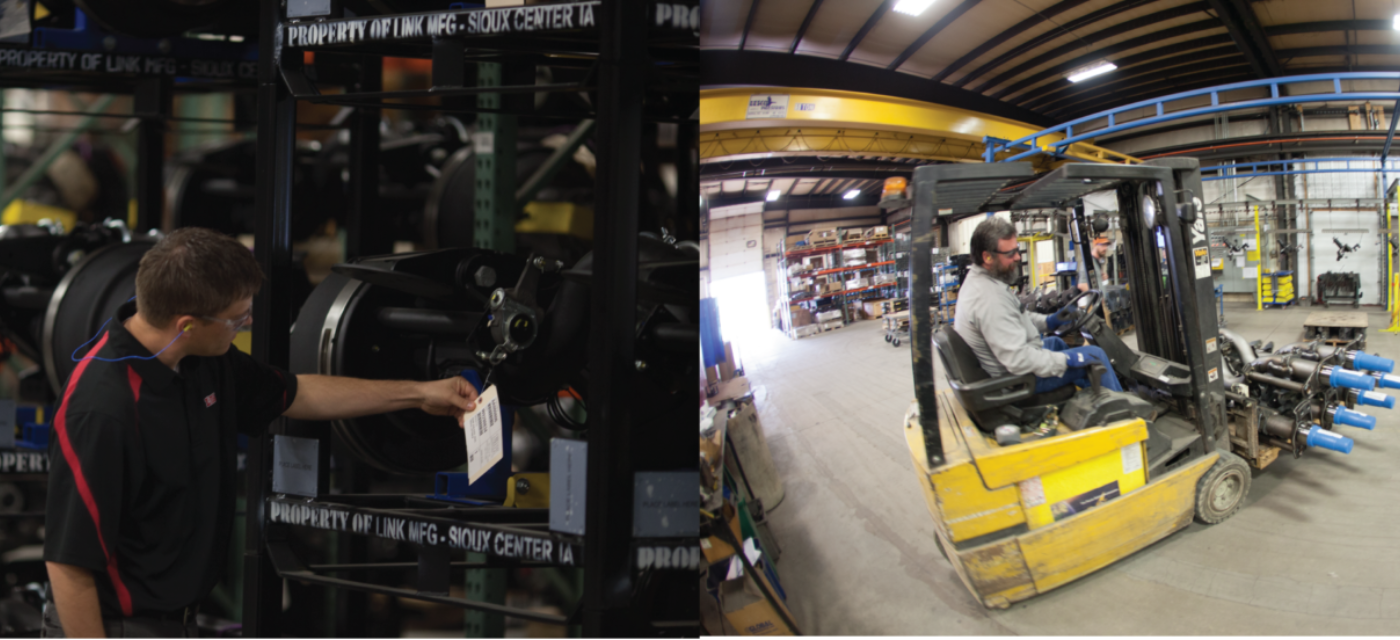 Driven to Outperform for Customers and Employees
As many of you know, Denny Michels retired at the end of 2017 and I took on the role of president at Link Manufacturing beginning January 1st. I want to take a moment today to reflect on some of the key achievements we accomplished in 2017, and what's in store for Link in the year ahead as we continue our focus on being driven to outperform for our customers and our employees.
Our 2017 Milestones
We're all proud of the fact that Link received recognition as an elite supplier to one of the major OEM truck manufacturers for the second year in a row. This recognition reaffirms the importance of our customer-focused culture and ability to perform at such a high level.
We were also proud of our safety record. In 2017, Link was once again recognized as a "President's Club" level for our overall safety performance within our insurance group, which fewer than 5% of members achieve. A commitment to safety and reducing potential injuries — whether in our operations or on products in the field — are always our top priority. It's rewarding to see this continued commitment and focus on safety from our team members.
Our Cabmate cab suspensions also had a solid year, both in terms of market growth and market share gains. This was due to a combination of strong customer satisfaction leading to even greater demand, and newer programs reaching full product release and advancing toward mature volumes.
This year also marked the beginning of production for a significant defense contract in Canada to supply trailers used in severe duty applications. The trailer uses a variant of our proven and well-respected Air Link suspension that has been used in a wide range of vocational truck applications for decades.
Key Trends Point to a Strong 2018
2018 is already off to a great start and there are some key trends that put us in a strong position for this year and beyond.
We're seeing a much wider customer base and strong interest for our auxiliary and vocational suspensions as more and more companies understand the advantages of using our products – including their lightweight design, fast installation, high reliability and very low maintenance costs. Recent product enhancements, coupled with Link's reputation for dependable products, responsiveness, short lead-times, and support of every customer is fueling tremendous growth in demand for these products.
Significant growth in demand is forecast across the commercial vehicle market in 2018-19 as well, meaning capacity will be tight and likely create supply constraints. Link has been preparing for this and continues to aggressively expand our capacity to meet the needs of our customers with reserve capacity. We're also ready to support new customers who may wish to reap the benefits of Link's customer-centric business practices as incumbent suppliers may not be able to meet their needs.
Fuel and driver costs will continue to be the top expense and most difficult factor for trucking companies to manage. Link is well positioned to enhance the commercial value in both areas. Our auxiliary suspensions increase payload carrying capacity and can be used as a liftable pusher axle in fuel efficient 6x2 applications. Our Cabmate cab suspensions help isolate and protect the cab and driver from road and other vibrational inputs. With several OEM customer applications receiving JD Powers awards for driver environment, Link's Cabmate plays a key role in recruiting and retaining drivers.
Investing in Our Team in 2018
Yet with all that said, our biggest priority remains the continued development of our employees. Our focus on developing the talents of our team to fill key skilled, technical and leadership positions is of utmost importance. Through our leadership development programs, it's been extremely rewarding to watch many of our brightest people grow and blossom over the past year.
As we look back on 2017 and prepare for another great year, our best asset remains our team. With ambitious growth goals, providing our people with the necessary tools and training to be even more effective is critical. Our employees truly embrace our commitment to being driven to outperform. They are fully invested in the success of Link and our customers, and we're investing in them as well.
Blog Author
Jim Huls
President