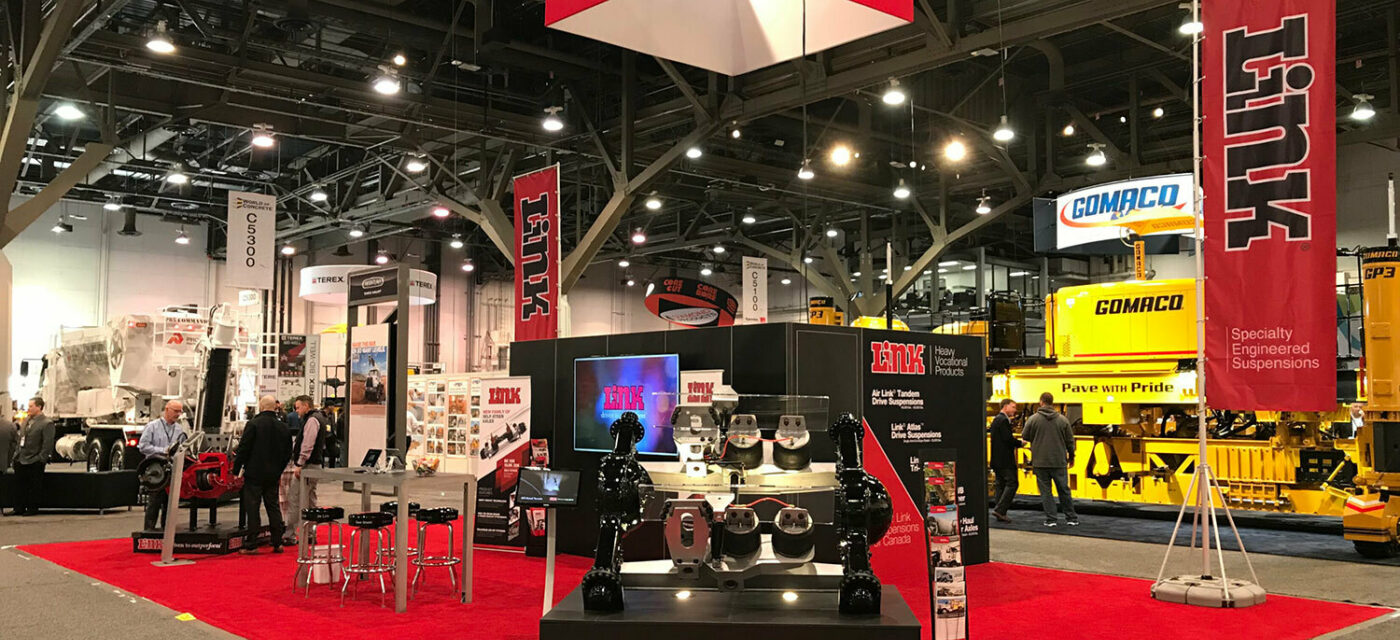 World of Concrete 2019
World of Concrete provides a space for Link to meet face-to-face with some of our key customers and prospects in the commercial construction and concrete space. The event attracts 1,500 exhibitors and 58,000 attendees registered, with both indoor and outdoor exhibits covering a total 745,000 square feet.
Link customers were well represented with significant exhibits at the show, featuring their vocational trucks with dump bodies, mixers, cranes, and other vocational applications. As Chris English pointed out in a recent article, the right heavy-duty truck suspension can overcome a lot of challenges drivers of these vehicles face, such as roll stability and the need for good articulation when driving on rough terrain. Whether it's an owner operator or body builder, they want a heavy-duty truck suspension that is durable and won't need constant maintenance. They also want to work collaboratively to engineer suspensions to overcome these challenges. And that's where Link and our suspension solutions really outperform.
Displaying Heavy-Duty Suspensions for Concrete Vehicles
Link's booth showcased products that solve those unique challenges faced by the concrete and construction markets. We featured our 13.5K self-steer auxiliary suspension, which represented our self-steer family of products that includes 8K, 10K, 13.5K, and 20K capacities. There was distinct interest from visitors to our booth for adding our auxiliary suspensions to dump trucks and heavy vocational vehicles due to fast installation and rugged durability.
We also had our 52K Air Link® tandem drive suspension front and center, which is a unique combination of air spring and walking beam technology that provides the roll stability and durability this industry requires. Our display of a complete 52K Air Link suspension was one of the most popular aspects of our booth and generated a lot of attention, inquiries, and compliments.
While World of Concrete is over, the concrete and construction industry will heat up significantly as winter comes to an end. If you have any questions about how Link's suspensions can improve the performance of your concrete and construction vehicles, or reduce installation and maintenance hassles, please let me know.
Blog Author
Michael Hof
Retired Vice President of Business Development