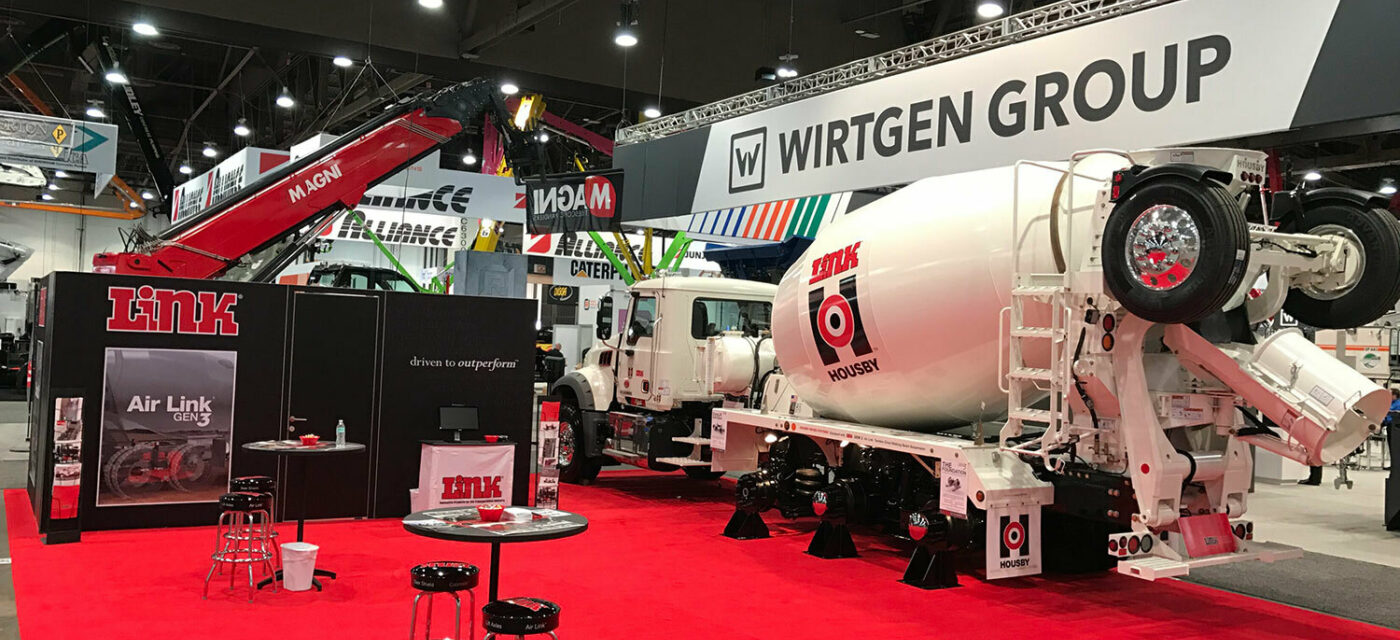 World of Concrete 2017
Link Manufacturing is invested in developing new suspension solutions for the concrete industry. In January we showcased our Air Link Tandem Drive Suspension, at World of Concrete in Las Vegas. This is a key event that allows us to immerse ourselves in the issues facing the concrete industry and better engineer suspensions that solve the unique challenges facing OEMs, dealers and upfitters.
This year we partnered with Housby Mixer Systems to showcase our concrete truck suspension solutions including the Air Link as well as the DuraLift Self-Steer auxiliary axle suspension, by outfitting a Mack truck with the products.
The Air Link received focused attention at the conference because it delivers everything the concrete industry demands in a heavy-duty tandem drive suspension. Its unique combination of air spring and walking beam technology ensures maximum traction and high roll stability when the load is full, without the bone-jarring ride when it's empty. It's also significantly lighter than other suspensions on the market, equating to more cargo that can be carried or improved fuel economy.
The unique design also is proven to lower maintenance costs, reduce damage to chassis and mounted equipment and lengthen tire life. The Air Link exceeds industry requirements for vocational suspension applications, and the OEMs and other World of Concrete attendees noticed.
Also featured at World of Concrete was the DuraLift self-steer auxiliary axle suspension. With maintenance costs and downtime a pressing concern, installers were impressed with the pre-plumbed integrated air control kit because it can save two to three hours of installation time for both self-steer and non-steer auxiliary axles. They also appreciated how our auxiliary suspensions help with inventory control by coming equipped with three different ride height brackets, allowing one Link suspension to replace three separate standard suspensions. End-users recognized the value in its light weight design, which allows for more loading capacity. And everyone benefits from our short lead times and strong customer service.

Concrete Truck Solutions Driven to Outperform
Unlike many displays at World of Concrete, we showcased our solutions from a unique perspective by removing the wheels and lighting the Mack truck from underneath for attendees to see exactly where the products are installed and how they work on a truck. Providing this type of close-up look helped attendees to better understand the engineering and the feedback we received was very positive.
As Link representatives, we spent the conference listening to concrete truck OEMs, upfitters and other industry decision-makers and received key insights about the problems and potential solutions concrete truck manufacturers and operators are encountering. We will continue to use such feedback from all of the industries we serve to engineer solutions that are Driven to Outperform.
Blog Author
Michael Hof
Retired Vice President of Business Development