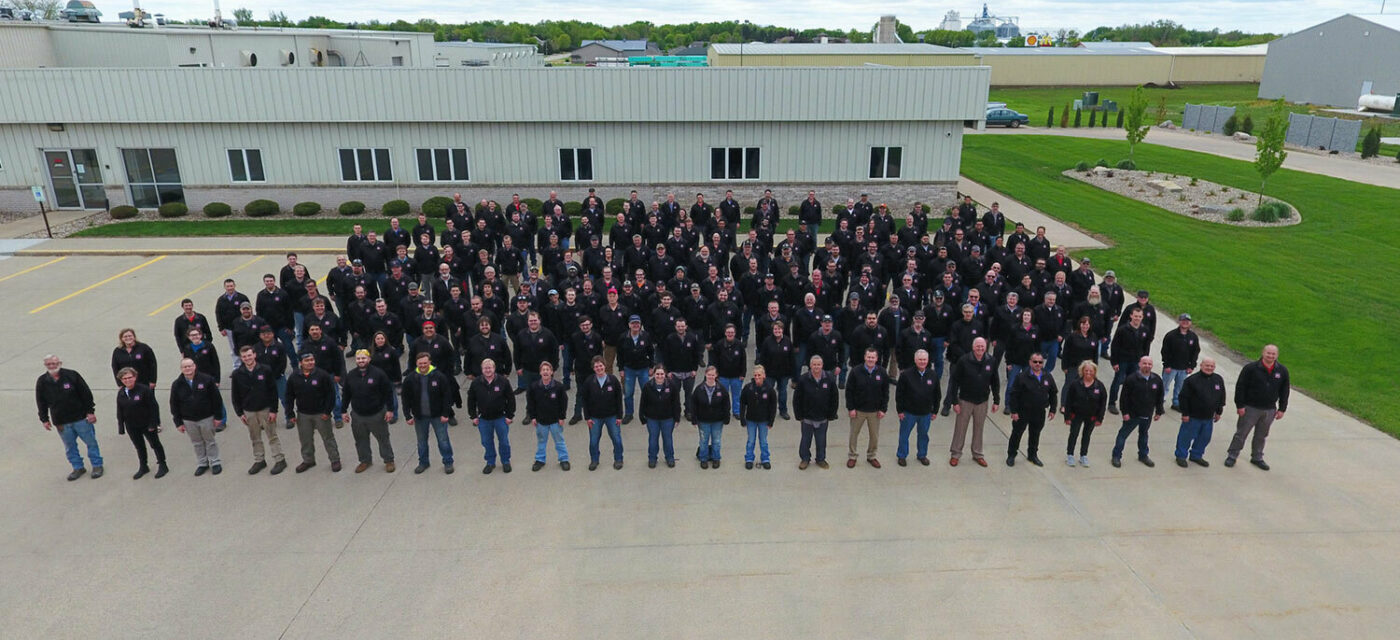 Celebrating Link's 2 Millionth Cabmate
This week was one of the most memorable and rewarding weeks in my 25 years at Link as we celebrated the production of our two millionth Cabmate premium cab suspension. While we made the official announcement yesterday, the real highlight was the celebration where our management team and special guests were able to recognize and celebrate the hard work and dedication of our employees who made it all possible.
If you're not familiar with the history of Cabmate, it is the quintessential story of American ingenuity and how one idea can grow into something bigger and stronger than originally imagined. In 1980 Bill Nibbelink built the first Cabmate in order to have a more comfortable ride for his truck. Within a few years Link was officially founded with our first plant in Sioux Center, Iowa. Fast forward a few decades and Link has expanded its footprint into three buildings operating as one manufacturing and distribution location in Iowa, one in Canada, more than 230 employees and a broad product line of specially engineered suspensions and equipment. We also have developed strong, lasting relationships with major OEMs, body builders, fleet owners and operators, and have established a vast distribution network.
Employees Make All the Difference
Reaching the two millionth Cabmate milestone required everyone – from those on the plant floor to our administrative professionals to the sales teams – showing up every day with a focus on customer satisfaction. It's staggering to think about how quickly we were able to reach the two millionth Cabmate milestone – achieving the second million units in 11 years when it took us 28 years to reach the first million – until you realize how dedicated and efficient our employees are. Our tagline is "driven to outperform" and we wouldn't feel comfortable making such a bold promise if we didn't know our employees can back that up and deliver on it each and every day. They simply refuse to let their colleagues and customers down, and we thank them for always delivering on our promise.
Lasting Relationships Built on Trust and Performance
We also want to recognize and thank our OEMs, suppliers and aftermarket partners for their trust and partnership over the years. Our ability to collaboratively engineer products that exactly fit specific makes and models and deliver optimum comfort for drivers is only possible with their partnership. Throughout the remainder of the year we will be meeting with them to personally thank them for their business.

While Cabmate has been setting the standard for cab comfort and safety since 1980, we are always innovating. Our team is busy at work on the ROI Cabmate system. While still in development, this next generation Cabmate is an intelligent cab suspension that offers a unique solution that addresses the broad array of problems associated with energetic cab movement, because it focuses on mitigating the mechanical forces that act on the cab and its contents as a whole. The system's electronic control unit (ECU), interprets a constant stream of information from accelerometers and position sensors on the cab, and determines the optimum settings for the system's advanced shock absorbers to maximize ride comfort. The ECU also uses the information to fill or exhaust air from the system's air springs. All adjustments occur hundreds of times per second, resulting in a dynamic damping state that is optimized for each instant. With this new technology, drivers and passengers experience the desired comfort of a very soft shock while traveling down a smooth highway and yet, have the stiff shock setting needed when driving in uneven or off-highway conditions. The system even responds to atmospheric forces, such as wind shear. I would encourage you to watch this video from Jim Parks, editor of Heavy Duty Trucking magazine, to better understand how Cabmate ROI performs and the improved driving experience it delivers.
Cabmate has a storied history and a very bright future. I want to thank all of our current and former employees who have worked so hard together as a strong cohesive team to make Cabmate and Link such a great success.
Blog Author
Jim Huls
President