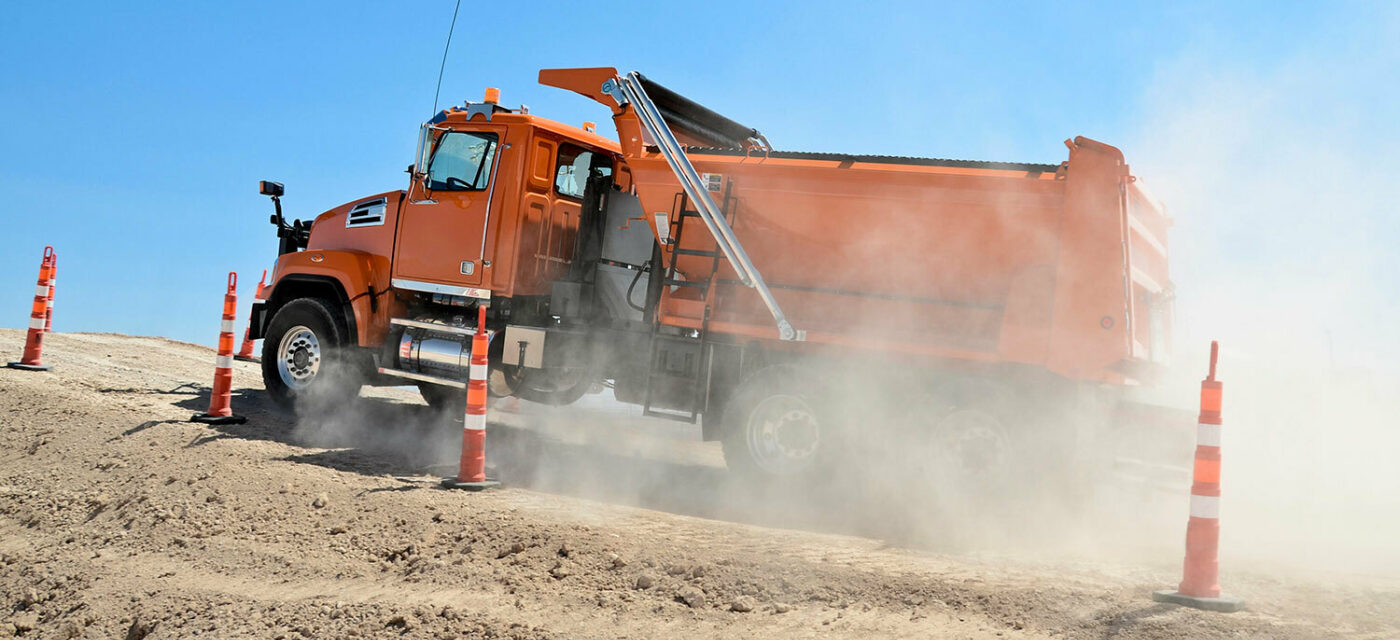 Air Suspensions Compared to Rubber Block or Leaf Spring Suspension?
If you're in the market for a new or used heavy vocational vehicle, you know for certain that your truck contributes to your overall productivity and bottom line. You also know the truck will take a lot of abuse, and likely understand that upgrading the chassis suspension can prolong the life of the vehicle and give your driver a more comfortable ride. However, you might be less confident about the differences between a rubber block, leaf spring or air suspension and which type will give you a better return on your investment.
While all suspensions perform well when the truck is fully loaded, the ride characteristics change dramatically when partially loaded or without cargo. In that situation, traditional rubber block and leaf spring suspensions will transmit every bump and depression the road contains. Occupants inside the cab will experience cumulative trauma to the body, while mounted equipment will suffer stress cracks and jarring, increasing maintenance costs and decreasing the life of the vehicle.

Benefits of a Air Suspension
Due to their simplicity, rubber block suspensions are the most common type of chassis suspension, yet they provide the least amount of protection. Because rubber blocks are inheritably stiff, high-frequency, low-amplitude forces, as well as low-frequency, high-amplitude forces, are transmitted very quickly into the truck's frame and up into the cab, doing very little to cushion the blow. Leaf spring suspensions are also quite prevalent, and while they provide better articulation and energy absorption than rubber block, they still transmit high-frequency, low-amplitude forces into the frame. At the other end of the spectrum, air suspensions are very flexible and are the best at damping vibrations and stress on the vehicle.
Air Link Outperforms for Heavy Duty Trucks
Most air suspension systems were originally developed for on highway use, but eventually migrated to off-highway use, which was not their intended purpose. Air Link is the only heavy duty air suspensions designed specifically for 100% off-highway applications.
Air Link was engineered for demanding off-highway conditions and weight capabilities. It was designed specifically with walking beams that are interconnected by a torsion bar to create proper axle tracking and stability during off-highway situations. This equips you with the carrying capacity and roll stability of a traditional rubber block or leaf spring suspension, without the bone jarring ride.
Drivers can travel across off-highway situations with Air Link due to the suspensions high articulation and roll stability. Air Link is equipped with dual height control valves which maintain optimal ride height conditions independent of load levels. The suspension distributes the load by leveling the vehicle side-to-side, delivering high roll stability, which is not possible with traditional rubber block or leaf spring suspensions.
Unlike other air suspensions, Air Link is nearly maintenance free. Air Link should however be inspected once a year for bushing wear and to tighten the bolts. Most other suspensions use a U-bolt to connect to the axle. U-bolts need to be inspected often to ensure they are secure, and if it breaks, the suspension and truck are stalled. Air Link uses either bar pins to connect to the axle, which is more secure.
Another important benefit of Air Link is the vehicle can continue to be driven even if the air bags stop working. This is essential for heavy duty applications. Imagine a scenario where you lose air hundreds of miles from the nearest shop. Other air suspensions would render the truck inoperable, but with an Air Link suspension the driver can continue operating the vehicle until it can get to a shop for repairs. In fact, the "system redundancy" built into Air Link and its proven performance across a variety of rough terrains is one reason why they are so popular for defense and emergency vehicles.
While you have many options to choose from, I hope this explanation helps you understand why an air suspension, and particularly Air Link, is the best investment. Air Suspensions provide a much better long-term value for your vehicle as well as your business. If you have any additional questions about air suspensions or Link products in particular, please let me know.
Blog Author
Chris English
Managing Director, Link Canada