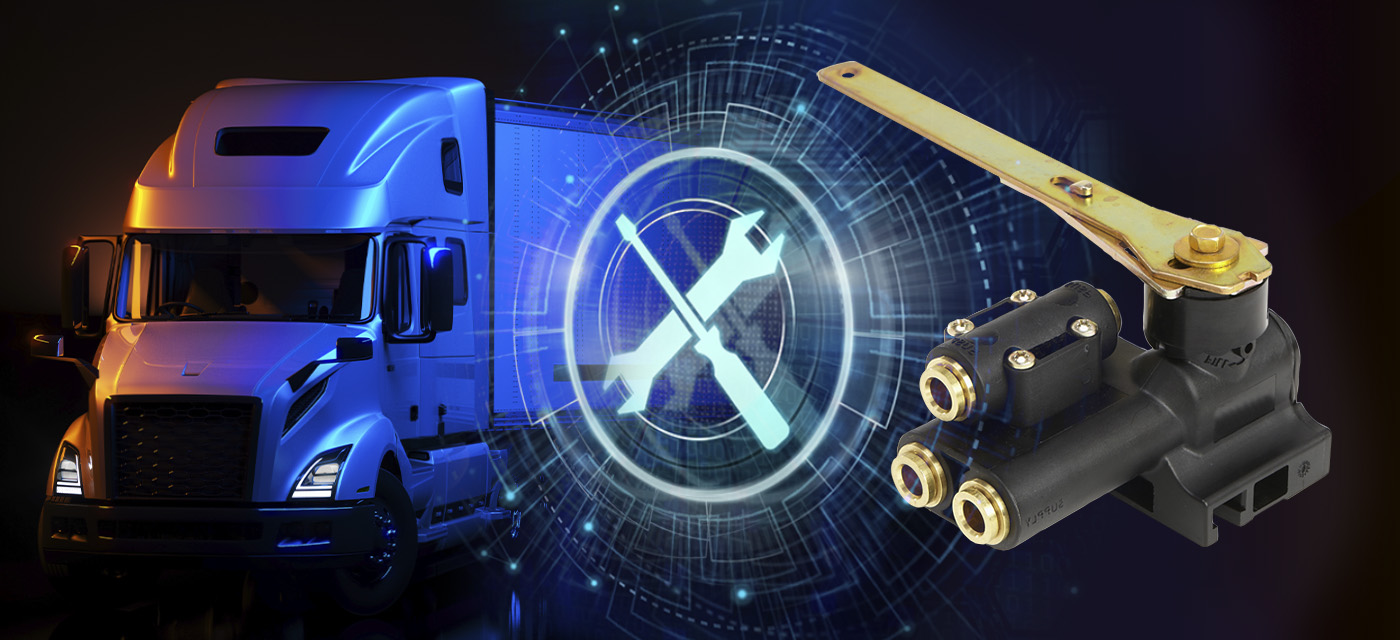 Height Control Valves – Which One is Right for You?
A challenge since the creation of vehicles has been reducing the damage taken by chassis. The major way that most vehicle OEMs have found to reduce said damages has been to improve the ride quality of the vehicle, most often with a suspension system. A suspension system will reduce road shock felt by the vehicle and its occupants while simultaneously increasing road handling and traction, which will reduce the damage taken and the overall movement of the vehicle and/or trailer. Several different suspension types have been introduced throughout the years, with three types dominating the market: the spring suspension, rubber suspension and air ride suspensions. Spring and rubber suspensions tend to be the simplest suspension on the market. While these suspensions don't require any air controls, shock absorbers or air springs, which lowers some costs, they tend to wear faster than an air ride suspension. This is why air ride suspensions have become the prevalent choice among most trailer and truck manufacturers.
Air Suspensions and Height Control Valves
There are several components included in an air ride suspension: the air supply, air bags and the height control valves. Height control valves are used in a variety of applications with the main function of maintaining a vehicle's predetermined ride height between the frame and the axles. The valves do this by filling and airing the air bags that, in conjunction with a set of shocks, create the best tire to ground traction by determining axle movement in relationship to the frame.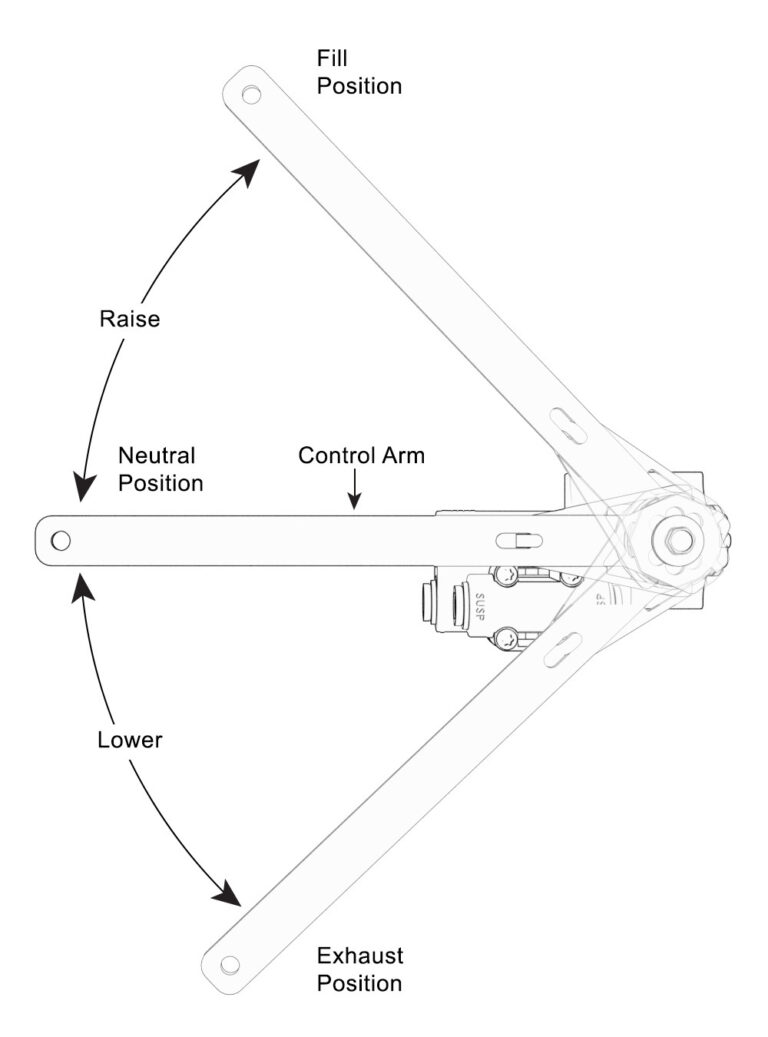 Ride height itself is maintained by the angle of a valve's lever arm. The arm on the HCV connects to a linkage. When the arm moves up, the air bag is connected to the air supply, which inflates the bag and raises the vehicle. When the arm moves down, the bag is connected to the exhaust port, effectively deflating the bag and lowering the vehicle. When weight is added to the vehicle, the lever will adjust accordingly and fill the airbags until the lever returns to its neutral position. Likewise, when weight is removed, the arm raises, allowing the airbags to release their unnecessary air. This is how a height control valve levels a vehicle.
Typically, a vehicle will have several height control valves, though the number and arrangement of the valves on a truck varies based on the application. Height control valves can be found on several suspensions throughout the vehicle and on the trailer. The three main suspension systems that use height control valves are the cab suspension, trailer suspension and chassis suspension. A cab suspension tends to use one height control valve to control one or two airbags depending on the suspension. One height control valve tends to run a trailer suspension as well. Typically, a chassis suspension uses three height control valves. The most common arrangement is two on the front axle and one in the rear, though some arrangements will use one on the front axle and two in the rear. Some chassis suspensions have up to four valves, though this arrangement isn't common. Another uncommon arrangement is a single valve system. Often times the valve for such a setup is unique when compared to typical mechanical and electric height control valves.
Mechanical vs. Electric Height Control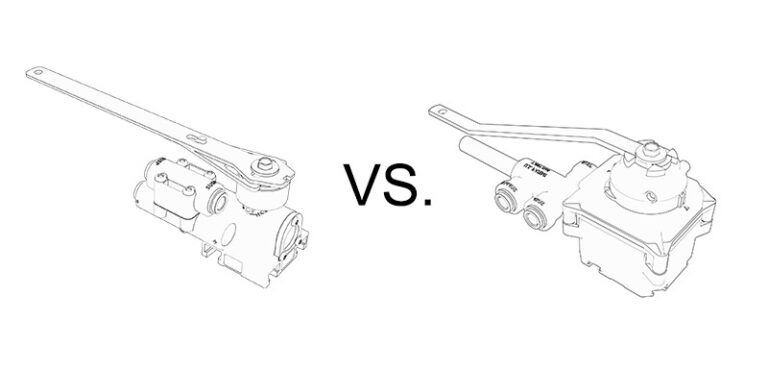 As with most things, there are multiple categories that valves fall into. The main two categories for HCVs are mechanical and electronic. A majority of height control valves are mechanical, however electric height control valves are steadily gaining popularity.

Electric HCVs operate with sensors. When the valve's arm moves, sensors will send information to an electronic control. That control will then open or close the valves in accordance with the angle of the arm. The main difference between a mechanical HCV and an electric is that the electric gives operators the ability to manually raise or lower the ride height. This can be done for many reasons, several of which we will touch on later in this blog.
Choosing A Replacement Valve
When it comes to choosing a replacement height control valve for your suspension, there are many factors to consider. The pros and cons of available valves are many and varied. With the wide variety of valve options in the industry it can be hard to know which valve is the right one for your application. Therefore Link provides several mechanical and electrical valve options that cover all makes, models and applications. Each valve has its own capabilities and features that make it beneficial for your application. It's important to consider each valves' features to decide which one is right for you. Before considering a valve, there are a few things to take into consideration before choosing a valve for your desired application.
The first item to take into consideration when choosing a valve is the application that requires a height control valve. Is it your cab, chassis or trailer suspension that needs a valve? Secondly, what rate of air flow does your application require? What is required air flow, low or high? Third, what is your suspension's size and tonnage rating? Once you have the answers to these questions it's time to move on to the Link valve options.
Electric Valve Solution

SmartValve™
SmartValve™ is Link's compact, electronic Height Control Valve. It can be easily installed to a mechanical HCV mounting pattern for when you need additional functionality out of the suspension that a mechanical HCV cannot provide or when it would be complicated and costly to do so with a mechanical HCV setup.
Another feature of the SmartValve is its ability to go over ride height. This allows drivers to lift the frame rails over ride height to take weight off a trailer's landing gear. This benefit provides drivers with less weight on the landing gear, making it easier to crank the landing gear. Less weight equals less effort required to crank the trailer lower or higher, which in turn helps decrease back and shoulder injuries resulting from excess strain.
The SmartValve is integrated into the vehicle's system so it can read the J1939 CAN bus code, which allows it to return to ride height between 8-12 miles per hour. Therefore, if a driver doesn't remember to dump or raise the system when leaving the yard, the system will automatically go back to proper ride height. This prevents any issues that could arise from traveling with the chassis not at OEM recommended ride height.
This electrical HCV is proven to be long-lasting due to not having any movable internal parts. This means minimal vehicle downtime due to the suspension control, as well as a height control valve that will have a long lifetime.
The SmartValve system runs on a ~3 second delay in adjustment so it will not move air unless there is a major event, or it is instructed to through the push button control. This reduces air compressor run time by not moving air through the valve while running down the road unless it is necessary, helping to extend the compressor life.
Mechanical Valve Solutions

1500 Series Valve
Our most versatile height control valve is the 1500 Series mechanical HCV. This All Makes valve can be used as a universal replacement for all makes and models by providing multiple mounting and lever arm orientations. This valve is designed to control a vehicle's chassis suspension. With a high airflow, this valve is engineered to react to road events with greater control. This valve can be run in a single or a best fit, dual valve application, which allows a smooth ride in rough road conditions and in loading and unloading. The 1500 series height control valve functions as a dump application with two options available: Zero Pressure Dump and Pressure Dump. Non-dump configurations are also available depending on the application's needs.
650 Series Valve
The 650 Series mechanical HCV was designed to replicate the 600 series features and benefits. 650 HCV has a plunger design to better control air flow accuracy. The 650 valve has an integrated plastic lever and can be molded to your length requirements. Like the 600 series, the 650 has a compact design and has a small envelope to help with fitment. The 650 valve also has a low air flow rate, which helps with air consumption.
600 Series Valve
For cab applications, consider the 600 Series mechanical HCV. This valve series features a compact design to better fit in a vehicle's envelope. With a low air flow rate and air usage, these valves help to better stabilize the suspension and reduce air consumption. Low air flow results in reduced compressor runtime.
500 Series Valve
Link's next available valve is the 500 Series mechanical HCV. This valve series is designed to control a vehicle's primary air suspension. It features a high airflow rate to better control an air ride suspension, along with a damping effect. This valve can be used in a single or best fit, multiple valve operation for heavy duty applications. One of the main features of the 500 Series is its ability to dump the airbags with its integral dump facility. Both pressure dump and zero pressure dump options are available. Link also offers a non-dump option for your needs. For accurate weight transfer, a smooth ride in rough road conditions and during loading and off-loading operations consider the 500 series valve.
450 Series Valve
The last of Link's valves is the 450 Series valve mechanical HCV. This versatile non-dump, mechanical height control valve replaces like for like. It is designed to control a cab suspension or a vehicle's air suspension, offering a smoother, level driveline angle. This low flow design features a delay mechanism that ensures a smooth ride and cuts back on air consumption so you aren't wasting air from your reservoir. As a multi-class application, the 450 series is designed as a universal, non-dump valve for tractor, trailer, and Class A RV applications.
Final Thoughts
Link Valves are available with an industry best lead time. Link supports this lead time with production in the heartland of the USA. To make valve selection simple, our valves feature universal kits, covering all height control valve makes and models. Therefore, if you are looking for a robust, domestically produced height control valve, look first at the Link valve catalogue for your vehicle needs. If you have any questions about our valve availability, reach out to your local Link valve dealer or give our sales team a call.
Blog Author
Ben Lucas
Senior Fleet Sales & Strategic Accounts Manager