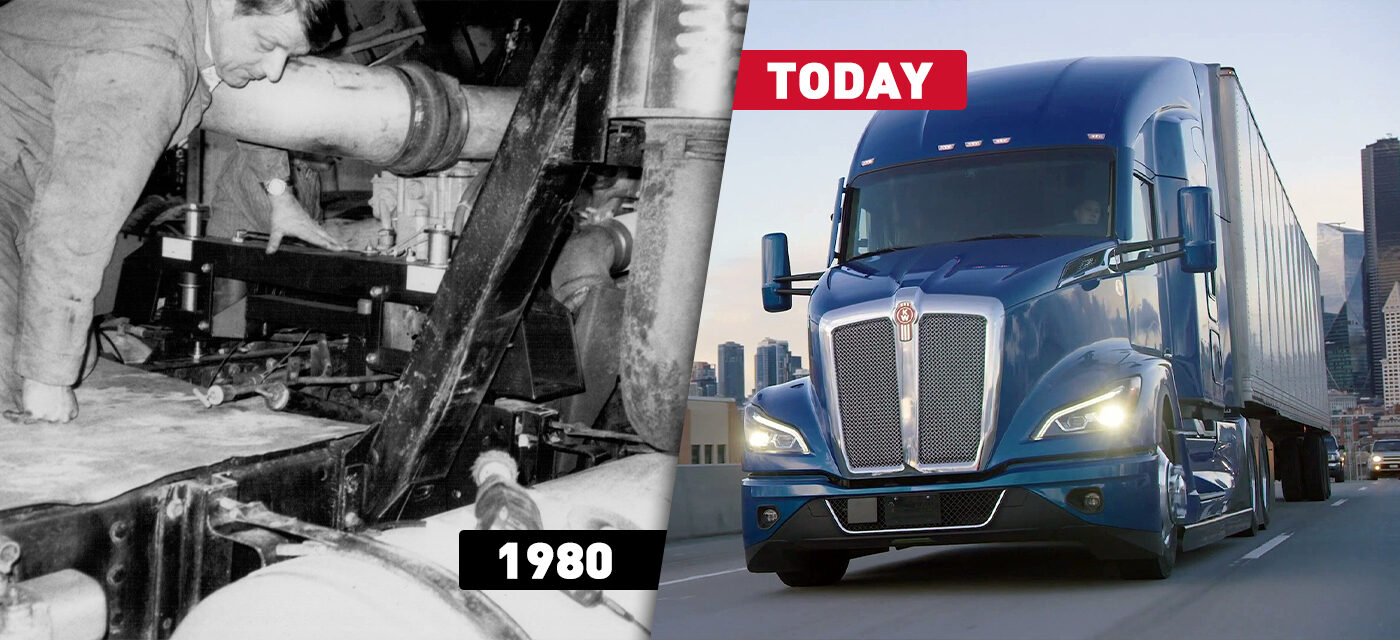 Changes in Trucking Over the Years
Technology has affected almost every area of our lives and has impacted almost every industry in the world. Prior to the cell phones, truckers relied only on CB radios to communicate, then came cell phones and now the trucks themselves are receiving and transmitting over cellular networks. The CB radio is still common to find in a truck but is now just one of many communication options. As the world changes, the industry must change with it, creating an ever-shifting landscape for fleets and drivers to navigate to keep the world moving.
A Little About The Past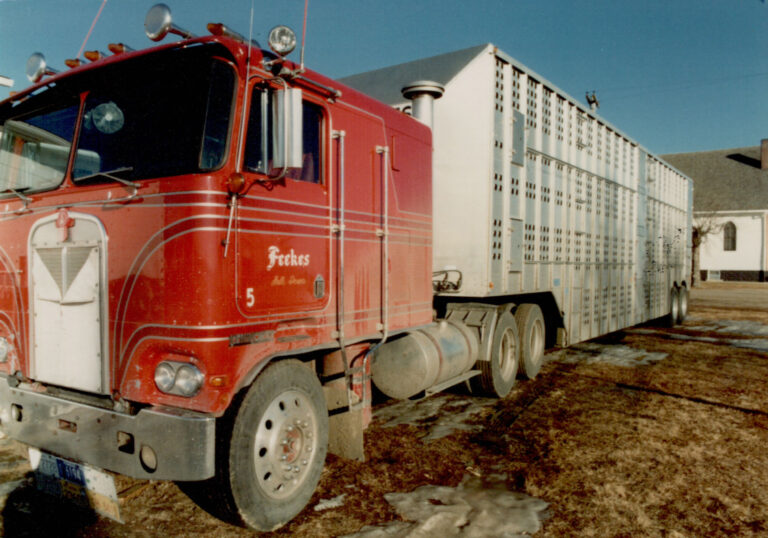 Many older drivers would argue that trucking used to be simpler, before all the technology, laws, and regulations. In the 80s, most trucks were the old "box" or cab-over engine designs. These units had a short wheelbase and rubber mounted cabs, which meant they rode rough. The trucks had no air conditioning or the ergonomics that truckers are used to today; Essentially, they were an engine on wheels. It was easy to cheat on reported hours with paper logs, making it easy to drive longer, though this compromised safety due to fatigue. Despite the higher risks of fatalities on the job than the average American worker, truckers came together to unionize, building the community that truckers loved and beginning the movement towards safer working conditions.
Trucking Today
Over the years, the trucking industry began to shift, placing a focus on safety, efficiency, and well-being while on the job, In the truck and on the road. In the mid-90s, ABS became mandatory for tractors and trailers, making braking safer. Today, every Class 8 truck on the road today must use an Electronic Logging Device (ELD), which stems from federal legislation passed in 2012. However, this regulation wasn't mandated until 2019. The rules for driving duty cycles have not changed much in the last twenty years, but the ability to monitor and enforce those rules has changed dramatically with the implementation of ELDs. According to a study by the Federal Motor Carrier Safety Administration, the use of ELDs has reduced the crash rate by 11.7% and reduced hours of service violations by 50%. Of course, not all drivers like the level of regulation and monitoring that is required for trucking these days. However, they can't argue with the fact that it has improved safety greatly.
In addition to regulatory changes and ELDs, today's trucks are loaded with computers and sensors aimed at improving safety and efficiency, everything from semi-autonomous driving features that will apply the brakes or keep the truck in its lane to programs that adjust engine parameters to optimize fuel consumption. With the mainstreaming of the internet, social media and data analytics, truck drivers have a much bigger voice than they once did. Truck manufacturers have teams of engineers that focus just on the driver experience. This means that ergonomics, comfort, and general aesthetics of the truck, inside and outside, are paramount. Appealing to the drivers is a must. if the driver likes the truck, they're more likely to stay behind the wheel. This is Critical to fleets as they work to recruit and retain drivers.
Today, trucking accounts for 72% of delivered freight. Making trucking one of the most critical industries in our economy. Despite this, the United States is facing one of the biggest deficits in drivers it has ever seen. The industry currently sees a need for 120,000 drivers to deliver the country's freight. In 2019, 10 million Americans held a CDL, which is more than triple the 3.7 million trucks in use requiring a CDL. According to many drivers, "a shortage" is industry lobbying rhetoric; the real problem is an overabundance of bad job openings.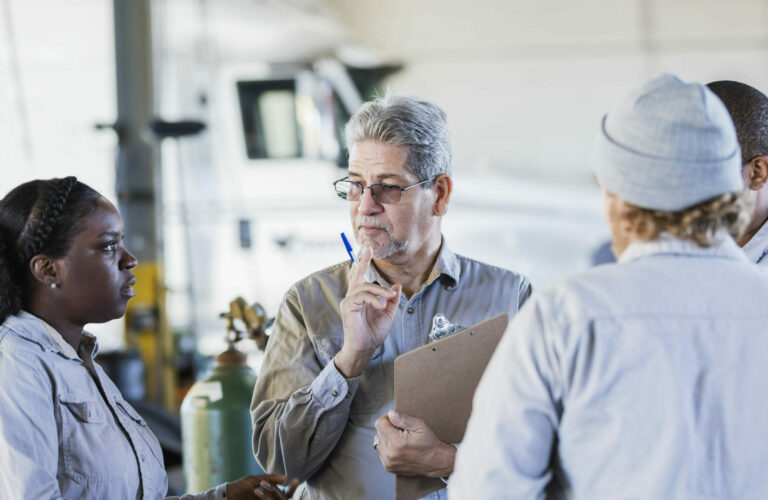 Among large fleets, turnover rates average over 100% and run as high as 300%, which has fleets looking for anything to attract drivers. Many are offering cash sign-on bonuses or looking to offer upgraded equipment to make their trucks safer and more comfortable. As the trucking industry has grown, so have the advocacy groups pushing for safer working environments for truckers. The new generation of truckers is younger and more diverse; they want better pay and a safer and more comfortable ride so they don't retire with a bad back or chronic musculoskeletal injuries. All eyes are on the drivers; if it gets them behind the wheel, fleets are willing to consider it.
ROI Cabmate®, the Cab Suspension Designed for Drivers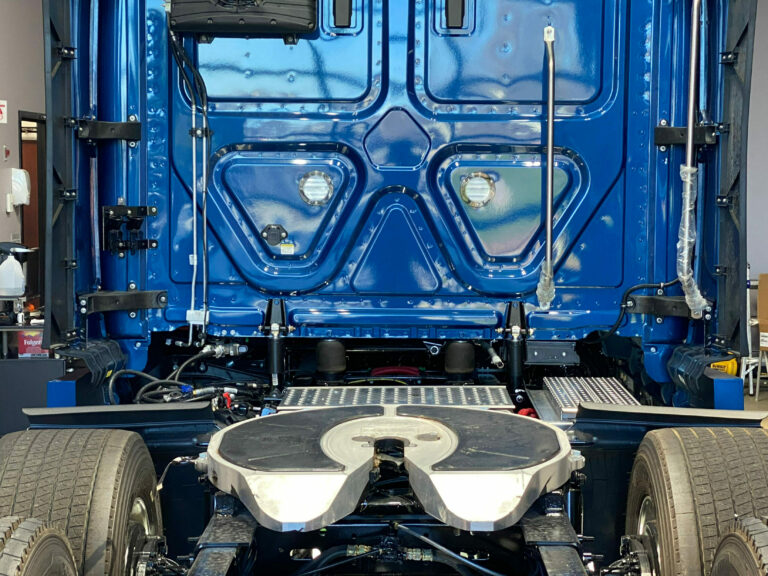 The driver focus is pushing the industry to create solutions for the drivers, to increase their safety and improve their driving experience. Link has been focused on improving the ride for drivers since 1980, back in the era of cabovers and bone-rattling rides. Link introduced the first air ride cab suspension back in 1980, which then became the industry standard. Link started with one truck driver searching for a better ride. Today, Link has grown to over 250 employees, five manufacturing plants, and four locations in three countries. We manufacture cab suspensions, primary suspensions, auxiliary suspensions, tire pressure monitoring devices, cargo management solutions, ride height controls and several other niche solutions for the industry.
As a company built on improving ride quality for truck drivers, we wanted to take ride comfort and safety to the next level. In 2019, we released our ROI Cabmate cab suspension system. This system takes the benefit of a standard cab suspension and then uses sensors and a proprietary algorithm to create real time dynamic damping with electronically controlled shock absorbers. This removes the compromise that is made when designing a suspension that must be stiff for control but soft enough for comfort. You now get the best of both worlds. ROI Cabmate improves the overall stability and comfort, making it safer for the driver. Reducing exposure of impact and vibration to the driver pays dividends over time. Fatigue is reduced which is the leading cause of fatal accidents. Musculoskeletal injuries and other chronic conditions are reduced, which otherwise shortens careers and is a large cost to fleets.
Our goal is to help drivers stay behind the wheel for longer, with reduced injuries in a safer, more comfortable environment.
ROI Cabmate's ability to react in real time to road conditions means that it can isolate much more of the impacts and vibrations from the truck frame before it can be transmitted into the cab. This results in improved safety and ride quality for the driver. With less bounce and seat movement, the driver maintains a steadier line of sight and improved control of the steering wheel while driving. The increased roll stability and reduced noise and vibration means less risk of objects falling out of storage locations and of course less spilled coffee. Very important. The vibration reduction isn't just good for the driver, it also reduces stress to sensitive electronic equipment in the cab.
With Link's ROI Cabmate, OEMs can improve the safety, ride quality and ergonomics for the driver. And with the growing market for electric trucks, reducing noise and vibration in the cab becomes more critical with no diesel engine. Our electronic height sensing conserves air because it does not fill or exhaust air every time the suspension travels above or below ride height, like a mechanical valve does. This reduces compressor run time which increases the miles per kWh.
The Link ROI Cabmate is an industry first solution to meet the growing demand for a safer, more comfortable, and quieter cab environment. We are the industry leader for engineered cab suspensions and by integrating our ROI technology, the ROI Cabmate offers a best-in-class driving experience. ROI Cabmate is purpose built to maintain drivers' health and satisfaction by improving ride comfort and reducing their exposure to harmful impacts and vibration. Contact us today to learn more on how the ROI Cabmate is helping fleets across North America retain drivers and reduce long term effects of driving vibrations.
Blog Author
Eli DeGroff
Product Manager - Road Optimized Innovations