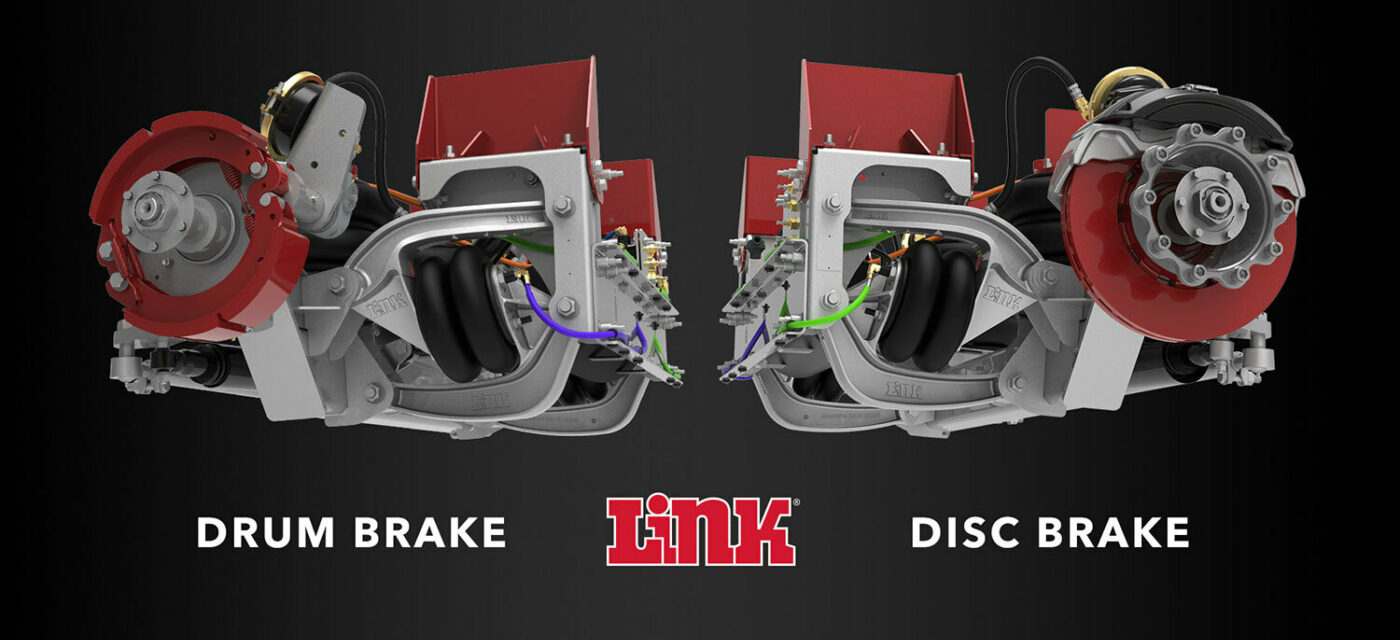 Advantages Of 13.5K Self-Steer Disc Brakes
As you hopefully know, our 13.5K self-steer auxiliary suspension with air disc brakes recently became available. Disc brakes, which have been standard on passenger vehicles for many years, are becoming increasingly popular in the trucking industry. In fact, according to Heavy Duty Trucking magazine, air disc brakes can currently be found on approximately 25 percent of Class 8 trucks, and this percentage is expected to approach 50 percent in as little as three years. With air disc brakes becoming more common on fixed axles throughout the truck, it only makes sense to have it as an option on the auxiliary axle too.
Although they have the same objective and use air pressure to apply friction to stop the vehicle, air disc and drum brakes are very different. Unlike drum brakes, which expand the brake shoe outward against the brake drum to create the needed stopping power, air disc brakes squeeze a brake pad against the rotor to stop the vehicle. Air disc brakes not only deliver better stopping power and reduced maintenance, they also provide more consistent performance, making them a better option for a variety of applications.
Along with Link's industry best lead-times, which allow you to free up valuable warehouse space and have fewer dollars tied up in inventory, our 13.5K auxiliary suspension uses Bendix air disc brakes to provide a number of benefits to the driver and fleet owner, including:
Shorter stopping distance for increased safety
Lighter weight than competitive air disc systems, helping to improve fuel efficiency and providing the potential for a greater payload.
Less maintenance and quick pad changes which gets the truck out of the shop and on the road faster.
Ensuring Our Air Disc Brake Meets Our Rigorous Standards
Like any new product development or enhancement at Link, we thoroughly tested the 13.5K air disc brake option to ensure it meets our strict standards for quality and reliability. Due to the extensive engineering our team conducted before we even put it to through field tests - as well as using readily available, proven brake components from Bendix and ConMet - we didn't expect to uncover any issues or surprises.
Still, we put the 13.5K through its paces, running it on multiple tractors to replicate the combination on-highway driving along with off-highway conditions. We put the suspension through grueling tests in the mud, dirt, rain, sleet, snow and ice. It traveled on-highway, off-highway, over mountains and across the prairies, and performed exceedingly well in every instance.
The 13.5K self-steer auxiliary suspension with air disc brakes is now available through our dealer or distributor network, and we may expand it as an option on additional capacities in the future. Please let me know if you have any questions or would like to let us know what capacity you would like air disc brakes for.
Blog Author
Joel Van Den Brink
Engineering Manager