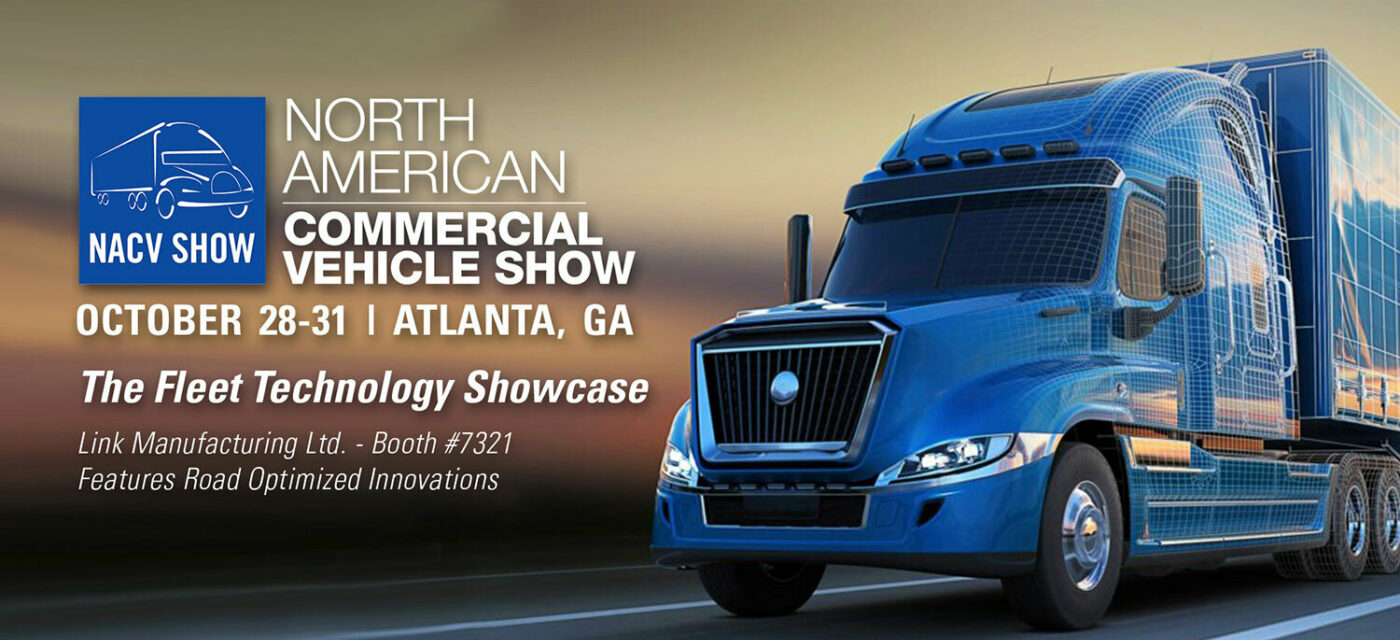 Link Innovation On Display At NACV
Gearing Up for the North American Commercial Vehicle Show
We're about two weeks from the kick-off of the North American Commercial Vehicle (NACV) show in Atlanta. This bi-annual event is where thousands of trucking professionals gather for the most comprehensive fleet-focused event in the United States and to get a preview of the technical innovations that will drive the industry forward for years to come. At NACV, Link will be celebrating our legacy as a leader in heavy-duty suspensions while showcasing the advancements we're developing that will make the future of vehicle performance even brighter.

Two Million Cabmate® Suspensions and Counting
This May we reached a major milestone in Link's history with the production of our two millionth Cabmate® premium cab suspension. Cabmate was initially developed in 1980 and quickly became the preferred cab suspension for Class 7 & 8 trucks. To date, more than 200 Cabmate models have been designed for vehicles that range from day cabs, extended length sleepers, terminal tractors, agriculture sprayers, fire trucks and defense vehicles.
At the NACV show we plan to thank all our OEM partners for making Cabmate such a success, and helping to provide a smoother, more comfortable ride for millions of drivers over the years.
Showcasing Suspensions of the Future At NACV
Visitors to Booth 7321 will also be able to get a first-hand look at ROI Cabmate, our latest and most advanced version of Cabmate. It sets a new standard for cab suspension performance by improving safety, operator comfort, asset protection and driver retention.
Featuring our Road Optimized Innovations (ROI) technology, ROI Cabmate is an intelligent system that uses proprietary algorithms and the system's electronic control unit (ECU) to interpret a stream of information from multiple sensors in real time, and responds by continuously adjusting the stiffness of shock absorbers and filling or exhausting air from the system's air springs to optimize ride stability and comfort. With adjustments being made hundreds of times per second to provide a constant state of dynamic damping, drivers will experience a better ride and expensive electronics inside the cab will be better protected from excessive shock and vibrations. Stop by our booth to learn more about the advantages ROI Cabmate will provide for future vehicles, and the positive feedback we're getting from fleets who have been running field tests across North America.
We will also be showcasing other technologies in our booth, including a display of our popular 13.5K self-steer auxiliary suspension that showcases both drum and disc brakes, our 6x2 auxiliary suspension, and Air Link Gen 3.
Following the Run on Less Competition
Speaking of innovations, the folks at the North American Council for Freight Efficiency (NACFE) and Rocky Mountain Institute have brought back the popular Run on Less event with a regional competition that showcases the latest advancements in freight efficiency. Link is proud to be a Bronze sponsor of this event and will be keeping our eye on Travis Lauer of Ploger Transportation as he drives a MY18 Volvo VNR Sleeper. His truck features a 6x2 configuration which Link worked closely with Volvo to develop. Volvo's Adaptive Loading senses weight differentiation and automatically lifts the axle to reduce friction and save fuel. Run on Less wraps up with a press event at NACV, and we hope you'll follow the participating fleets.
NACV provides the perfect opportunity to thank OEMs for their partnership over the years and demonstrate to fleet owners and operators how Link can improve their productivity and satisfaction. If you're attending the show, we invite you to stop by our booth to see firsthand how our commitment to being driven to outperform is incorporated into a variety of new technologies that improve vehicle performance. If you would like to schedule a specific time to meet during the show, please let me know.
Blog Author
Michael Hof
Retired Vice President of Business Development