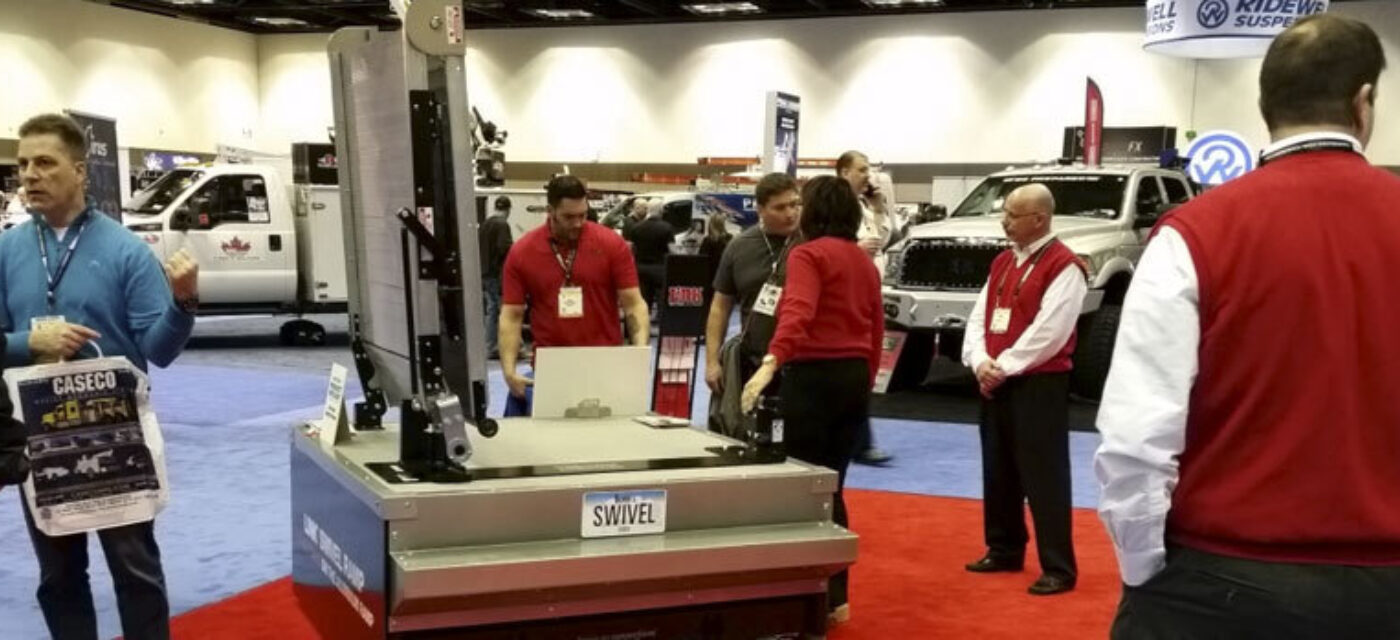 NTEA Work Truck Show 2016
Indianapolis has been a busy place over the last few weeks. The Big 10 Women's Basketball tournament was held there, and the NFL combine drew thousands of players, executives and national media members to Lucas Oil Field. Link was in town as well, exhibiting at the annual NTEA Work Truck Show. This allowed us to flex our muscles by showcasing our latest developments for the work truck industry, including our new Swivel Ramp and updated 13.5K lift axle, while getting valuable one-on-one feedback from customers and learning about the latest trends in the work truck industry.
Link has been active with the NTEA for more than 20 years. We appreciate the great insight from the discussions with our distributors and end-users of light or medium-duty trucks, as well as vocational vehicles. Our product line covers a broad spectrum of this market, including our line of ramps for delivery trucks, and our lift axles for heavy vocational vehicles such as dump trucks and mixers.
Top Trends at the NTEA Work Truck Show
The biggest trend impacting the work truck market is the continued focus on the green truck movement. More work trucks are being manufactured with recyclable products and alternative fuels in mind, such as electric or hybrid vehicles. While these are noble objectives, one trade off is an increase in vehicle weight. To help our customers meet their lower weight objectives, Link is constantly investigating ways to reduce the weight of our products while retaining strength and durability.
For example, our lift axle configurations are engineered to optimize weight and reduce costs, without sacrificing strength. All of our ramps are made with aluminum, which reduces weight and helps optimize fuel efficiencies while providing ergonomic benefits for the driver.
The New Swivel Ramp: A New Twist on Aluminum Ramps
We unveiled the new Link Swivel Ramp to strong reviews among distributors, end-users and media members. There was a lot of positive feedback, particularly how the 180-degree swivel capability allows for easier access to the cargo area than current ramps provide. They also appreciated the flexibility of the lift kit, which allows for easier raising and lowering of the ramp.
Anyone who is constantly in-and-out of their van, such as delivery drivers, showed strong interest in being able to access their cargo without always having to lower the ramp. Other vocational trades, such as plumbers, also saw the value of having a ramp when you need it, such as loading heavy equipment to start the day, while having the ramp stored out the way the rest of the day.
One of the main questions we received about the Swivel Ramp is, "when will it be available?" That won't be for a few more months, and for good reason. Being driven to outperform means we take great care to finalize testing, look for additional ways to reduce weight and ensure our processes and procedures are down pat so we can deliver high quality products consistently each and every time.
Revisions to 13.5K Lift Axle for Work Trucks
We also showcased an updated 13.5K lift axle at the NTEA event, which is designed to optimize lifting capability in an easy to install and use package. It features adjustable brackets, which helps cut installation time in half. The air bags are positioned so they are shielded from road debris. It is also compatible with standard wheel end components, reducing maintenance headaches. Tom Perez recently wrote a great summary on the main points to consider when selecting a lift axle if you have any questions.
The NTEA Work Truck Show continues to deliver great content and offers an opportunity to get valuable feedback from those on the road every day. If you have any questions about our new Swivel Ramp, lift axle configurations or how we can help meet your green truck objectives, please let me know.
Blog Author
Michael Hof
Retired Vice President of Business Development