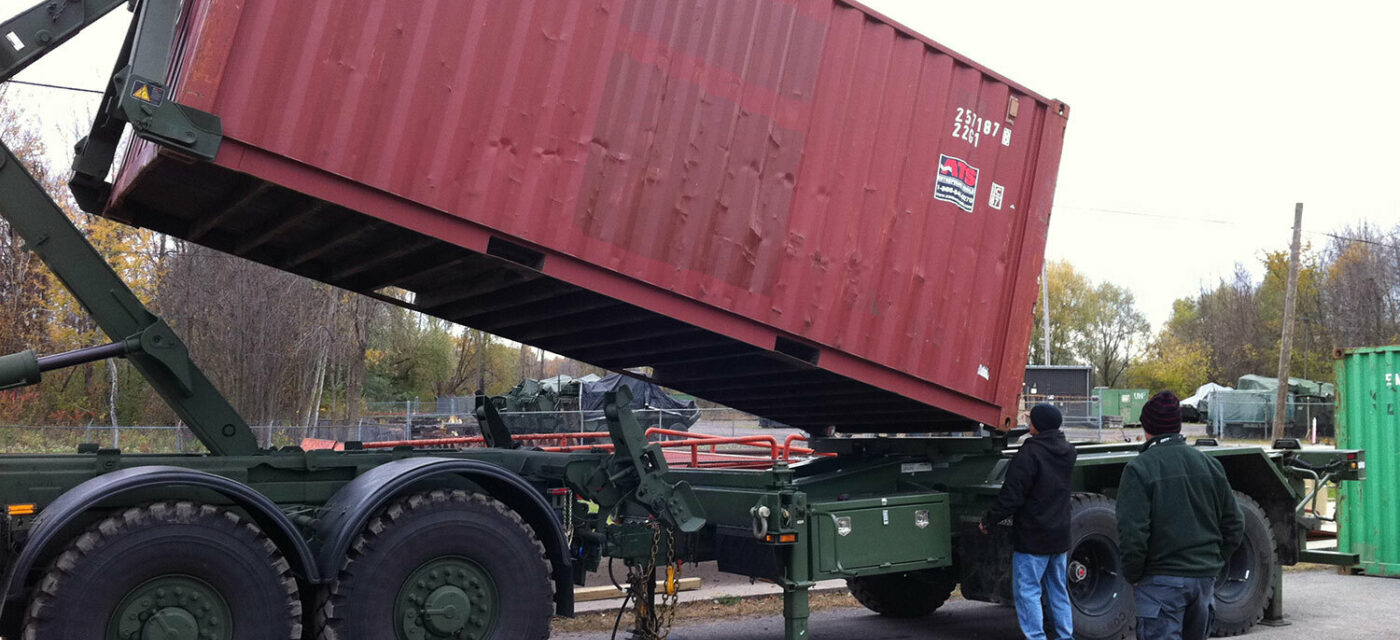 Load Handling System Trailer for the Canadian Army
When most people think of Link Manufacturing, heavy duty suspensions for on-highway and vocational vehicles is the first thing that comes to mind. But our R&D and manufacturing expertise extends to other specialty products, including trailers.
In fact, in March, Link Canada and Mack Defense announced the completion of the 100th Load Handling System (LHS) Trailer, built for the Canadian Army's MSVS – SMP Program. Link worked collaboratively with Mack Defense to engineer and manufacture a highly reliable and durable trailer that meets the Canadian Army's exacting specifications. Capable of hauling 22,000 lbs., the trailer is extremely versatile and can be used to haul cargo, outfitted as a mobile workshop or communications center. It is the most recent success story in Link's long history of engineering solutions that outperform for both the US and Canadian armed forces.
The specifications required for the LHS trailer presented unique challenges that our engineering team was excited to overcome. For example, while most commercial trailers have a lifespan of five years, the LHS trailer needed a 30-year lifespan. Put another way, soldiers who haven't even been born yet will one day be using the trailers we're building today. Ease of use was another chief consideration, as it needed to be easy to load, maneuver and maintain. These challenges guided every facet of the design and manufacturing process.

Reliability + Durability, Proven by Testing
The suspension used on the LHS trailer is derived from a suspension that underwent five years of grueling testing before being approved for fielding with active units of the US Marines. Extensive testing was also undertaken to prove compliance of the truck and LHS trailer combination for the Canadian Army, some of which involved the trailer being fully submerged in a river, before being dragged to shore and hauled at highway speeds. Not only did this testing confirm compliance for the Canadian Army's specifications, but also proved that the reliability and durability we engineered into the trailer's design will work in the field.

Ease of Operation
The LHS trailer operates and loads smoothly, can navigate on-and-off highway, and quickly maneuver into small, confining spaces—something not possible with existing trailers. Because loading flexibility is primary concern, the trailer incorporates a rolling bolster that permits fast loading by the truck itself without the need for additional equipment. In addition, all the relevant controls are on the left-hand side of the trailer where, for safety reasons, the operator is always visible to the driver as he operates the LHS equipment from behind the wheel.
We know we achieved ease of operation from multiple extensive forms of hands-on testing, including a simulation where soldiers successfully performed all required tasks after only an hour of training. Ease of operation applies to every aspect of the trailer, allowing two soldiers to change a wheel and tire assembly weighing over 400 lbs. in less than 20 minutes using only equipment provided with the trailer. This is an impressive feature!
Engineering Solutions for Armed Forces
Our focus on collaboration doesn't end there. We are currently building on the success of the MSVS program and are in the early stages of working with bidders for the completion of the Canadian Army's Logistics Vehicle Fleet modernization. Link is also heavily engaged in providing the mobile element for a state of the art water purification system. Both are trailer-based requirements, which if successful, could see production starting in 2020.
For now, we're proud of the fact that the trailer is 100% compliant with the requirements of the contract, and I have been advised that Link's LHS trailer is the best trailer DND has acquired in many years. If you're interested in discussing Link's Defense Programs or learning more about our heavy vocational products, please reach out to me.
Blog Author
Chris English
Managing Director, Link Canada