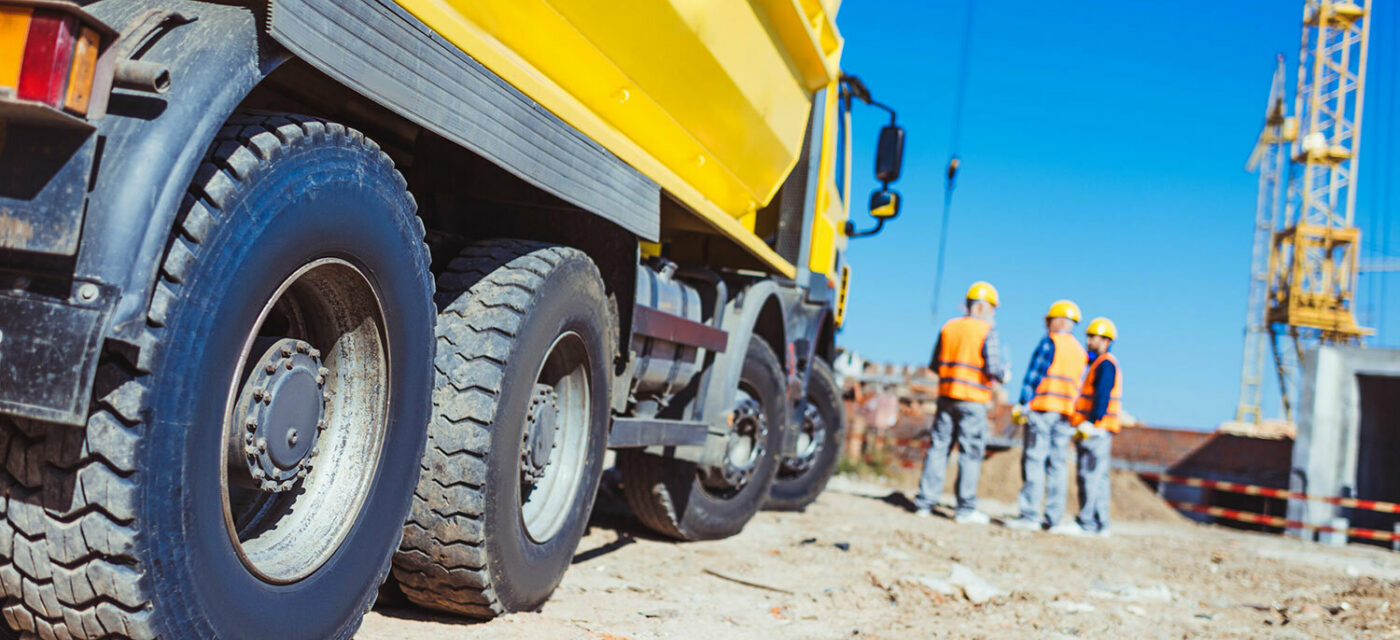 How Air Link Helps Construction Vehicles Outperform
Summer is the heart of the construction season throughout North America. Dump trucks, cement mixers, cranes and heavy haul trucks are running continuously to meet high demand and tight timelines. This heavier workload puts additional strain on the chassis suspension and can wear out components at a faster rate. Everything from the vehicle's driver to its body mounted equipment takes a beating if the right air suspension for the construction vehicle isn't being used.
Due to the unique nature of the work and the various terrains being driven on, construction vehicle suspensions face distinct challenges. For example, many applications are top heavy and require a suspension system that provides adequate roll stability. In addition, rough terrain and unfavorable traction conditions require a suspension that offers good articulation. The suspension must also be reliable and durable, have little-to-no maintenance costs nor downtime to truly serve the construction industry.
Link Manufacturing brings more than 25 years of experience engineering solutions for today's construction market. Our Air Link suspension was originally developed for the rigors of the logging and oilfield hauling industries in north-western Canada, but it didn't take long to become the standard in many construction applications. Air Link is built to a high standard and can take the beating that a construction vehicle dishes out. Today, we wanted to touch on some of the ways Air Link helps construction vehicles outperform any time of year, especially during the busy summer months.
Air Link Offers Reliability & Durability
With on and off-road capabilities—from the job site to highway travel—Air Link offers the reliability and durability needed for multi-purpose construction vehicles. For dump trucks, Air Link will adjust air pressure for the load applied, creating a softer ride than a mechanical suspension when the vehicle is empty while still delivering the performance needed when loaded. The heavy duty bushings also have a proven track record of being reliable and durable, giving the customer predictable performance and less maintenance.
Achieving High Roll Stability
Air Link does better than other conventional air suspensions for chassis that have a higher center of gravity because the air system is not a direct factor in the axle articulation. A failure in the air system on one side of Air Link causes a 1.5" drop in frame height versus a full 4" drop for other air suspensions, resulting in less of a roll event. A truck with Air Link can dump a load without a significant drop in ride height. This increases stability for vehicles that pick and carry or hoist dump boxes to off load.
Reduce Your Maintenance Costs & Downtime
Because it requires little to no regular service maintenance or greasing compared to other products, Air Link continuously outperforms for construction vehicles during the summer. The air springs used to dampen the impact and mitigate damage to the truck chassis and body mounted equipment are protected from ground debris that could cause air system punctures or failures with other systems. In the rare case of a loss of air pressure, the truck will remain operable until it is repaired, unlike other air suspensions.
The consequences of not having a suspension that is reliable and durable, while providing strong roll stability and little maintenance are severe for the construction industry. From safety issues to downtime on the job site—the costs are too great for any construction company to risk. Interested in learning how Air Link can help your construction vehicles perform better? Send me a note to learn more.
Blog Author
Chris English
Managing Director, Link Canada