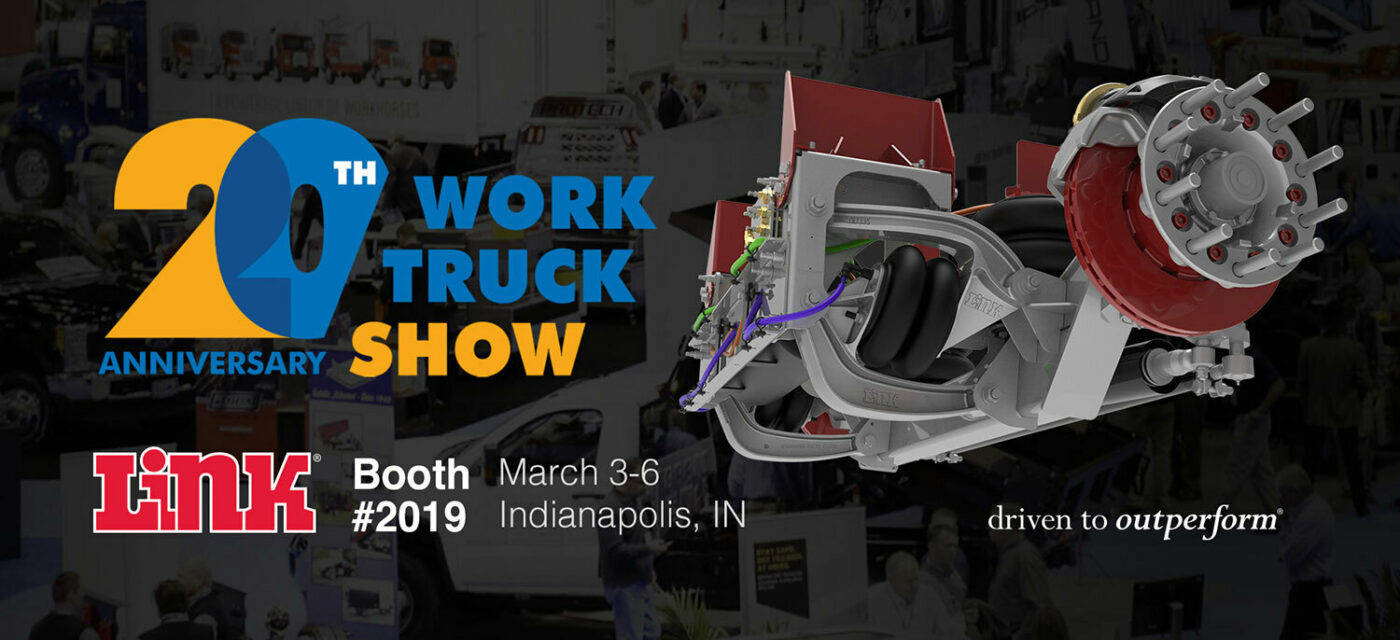 NTEA Work Truck Show 2020
Link will be exhibiting at the 20th annual NTEA Work Truck Show. We will be showcasing our enhanced 13.5K self-steer auxiliary suspension and versatile Swivel Ramp. The NTEA Work Truck Show runs March 3-6 at the Indiana Convention Center and Link will be set up in Booth #2019.
Link has been active with the NTEA for more than 20 years. We appreciate the valuable one-on-one feedback from customers and insight into industry trends from distributors. Our product lines cover a broad spectrum of the vocational and cargo van market and the event hosts important segments of our industry.
This event is unique in that it brings together four key segments of the commercial vehicle industry: truck chassis manufacturers and their dealers; truck body, equipment and trailer manufacturers; and truck body, equipment and trailer distributors; cargo van upfitters – all to learn about the latest products, discuss challenges, and find solutions.
Improve the Performance and Uptime of Work Trucks
Representing our family of self-steer auxiliary suspensions in our booth will be the 13.5K with drum and disc brake options shown. The entire family of 8K, 10K, 13.5K and 20K auxiliary suspensions is engineered to improve the performance and uptime of work trucks and other heavy-duty commercial vehicles. Our patented Swift Mount brackets allows for installation in as little as two hours, compared to six to eight hours for competing systems. The optional bulkhead air kit with push to connect fittings offers a "plug-and-play" set up that gets rave reviews from install professionals. Our 13.5K auxiliary suspension also is our first to offer a disc brake option, which provides superior braking performance.
If you're attending the NTEA Work Truck Show, I encourage you to stop by our booth where you can see our 13.5K display. Getting a first-hand experience with our auxiliary suspension will provide you with a better understanding of the durability and engineered advantages to the suspension. The feedback we've received on the enhanced line from current and prospective customers has been overwhelmingly positive. There is tremendous interest in the integrated air kit, which showcases our commitment to outperform by innovating in areas where others aren't.
Other noteworthy buzz we have heard is the benefit of our industry leading lead times. Customers have been impressed in how they can order a product today and get them next week, and because we ship custom-sized orders, body builders can carry less inventory and still be confident of getting their jobs done on time.

Unmatched Flexibility For Loading & Unloading Cargo
The Link Swivel Ramp has gained traction in the market with strong reviews among distributors, end-users as a cost-effective, low-maintenance alternative to hydraulic and pneumatic liftgates. We have received positive feedback from fleet owners, particularly how the 180-degree swivel capability allows the ramp to be stored inside behind the wheel well or positioned outside the vehicle, providing open access to the cargo area when the loading ramp isn't needed. They also appreciated the ability to rapidly open, use, and close the ramp making the Swivel Ramp perfect for today's rapid delivery environments, where stops may be mere blocks from each other.
You're invited to stop by our booth to rotate the Swivel Ramp to its various positions, extend the ramp and see how it would best suit your delivery needs. All of our ramps are made with aluminum, which reduces weight and helps provide ergonomic benefits for the operator. The flexibility of the lift kit reduces the effort required to lift the ramp, which allows for easier raising and lowering of the ramp.
Over the years we have developed a broad array of lightweight, low-profile aluminum ramps that vertically mount just inside the rear or side doors of commercial vans and box trucks, protecting them from the elements. Unlike exterior-mounted liftgates, Link's, low-profile aluminum ramps stow vertically inside the vehicle's cargo hold. Anyone who is constantly in-and-out of their vehicle, such as delivery drivers, have seen the value of having a ramp protected from the weather and appreciate the fact that the ramp remains clean and dry prior to use.
The NTEA Work Truck Show continues to deliver great content and offers an opportunity to get valuable feedback from those on the road every day. If you have any questions about our solutions for work trucks and delivery vehicles or would like to schedule a meeting at the Work Truck Show, please let Lynn or me know.
Blog Author
Tom Perez
North American Field Sales Manager