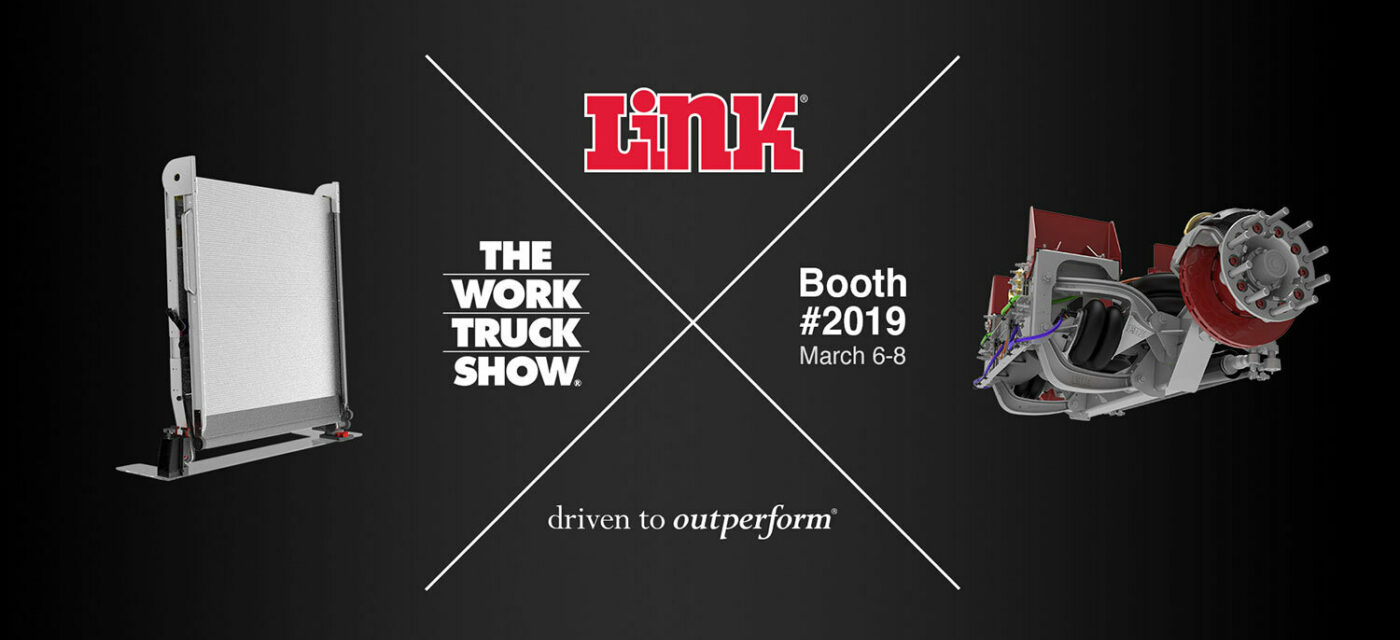 NTEA Work Truck Show 2019
Next week marks one of the biggest events to hit Indianapolis each year. No, not the NFL Combine or the Indy 500. The NTEA Work Truck Show runs March 5-8 at the Indiana Convention Center and Link will be set up in Booth 2019 to showcase the variety of solutions we offer for commercial vehicles and work trucks.
This event is unique in that it brings together three key segments of the commercial vehicle industry: truck chassis manufacturers and their dealers; truck body, equipment and trailer manufacturers; and truck body, equipment and trailer distributors – all to learn about the latest products, discuss challenges, and find solutions.
The two main product lines we'll be showcasing at NTEA are our family of enhanced self-steer auxiliary suspensions and our Swivel Ramp.
Link Auxiliary Suspensions Offer Unique Advantages
Representing our family of self-steer auxiliary suspensions in our booth will be the 13.5K with disc brakes. The entire family of 8K, 10K, 13.5K and 20K auxiliary suspensions is engineered to improve the performance, durability and uptime of work trucks and other heavy-duty commercial vehicles. Our patented Swift Mount brackets allows for installation in as little as two hours, compared to six to eight hours for competing systems. The optional bulkhead air kit with push to connect fittings offers a "plug-and-play" set up that gets rave reviews from install professionals. And our 13.5K auxiliary suspension also is our first to offer a disc brake option, which provides superior braking performance and lower maintenance costs.
If you're attending the NTEA Work Truck Show, I encourage you to stop by our booth where you can see our 13.5K display. Getting a first-hand experience with our mounting brackets and air kit system will provide you with a better understanding of how they can cut significant time off your next install. Another important benefit is our fast delivery time. Since you can order them today and get them next week, and because we ship custom-sized orders, body builders can carry less inventory and still be confident of getting their jobs done on time.
Swivel Ramp Provides Superior Versatility
Other important audiences at the NTEA Work Truck Show are fleet owners, operators and upfitters of cargo vans and delivery vehicles. Lynn Blake, our National Account Manager: Ramps, will be in the booth to demonstrate and answer questions about our Swivel Ramp display.
A more cost-effective alternative to lift gates and more a more flexible solution than traditional ramps, fleet owners and delivery professionals love its versatility. It can be used as a regular ramp, but as the name implies, it also swivels out of the way for unloading smaller items, or can tucked completely away inside the van along the wheel well.
You're invited to stop by our booth to rotate the Swivel Ramp to its various positions, extend the ramp and see how it would best suit your delivery needs. Our friends at Sub Zero Technologies will also have the Swivel Ramp mounted inside a Mercedes Sprinter Van at Mercedes-Benz Booth 4359, so be sure to visit them to see how it mounts inside a cargo van.
If you have any questions about our solutions for work trucks and delivery vehicles or would like to schedule a meeting at the Work Truck Show, please let me or Lynn know.
Blog Author
Tom Perez
North American Field Sales Manager