HDT Top 20 Products Award highlights the most innovative, significant, and useful new products from the previous year.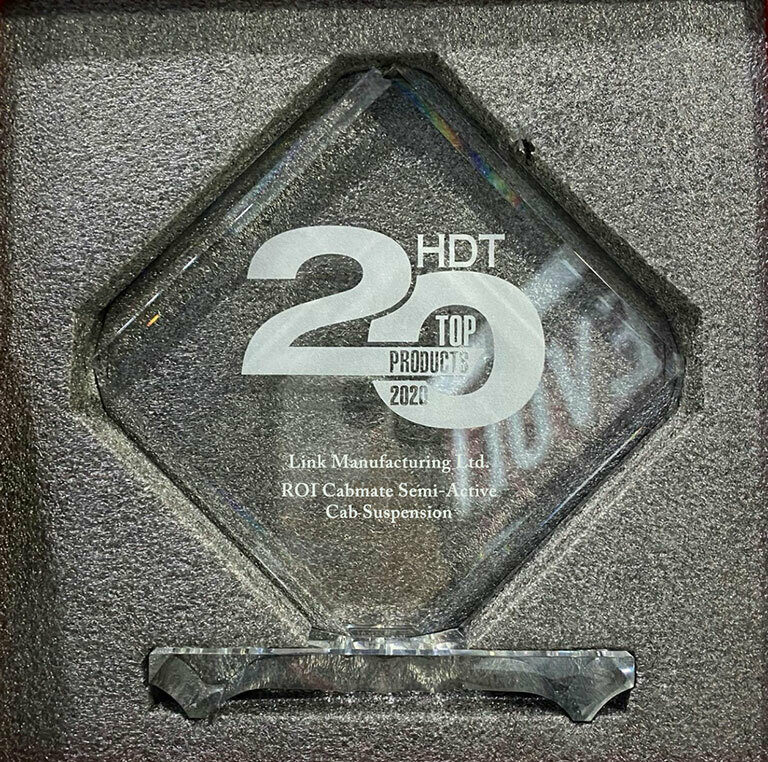 ATLANTA, Georgia, USA (February 25, 2020) – Link Mfg., Ltd. proudly accepts Heavy Duty Trucking magazine's 2020 Top 20 Products Award for its new ROI Cabmate Cab Suspension. HDT announced the awards at the Technology and Maintenance Council's 2020 Annual Meeting & Transportation Technology Exhibition in Atlanta. Heavy Duty Trucking's Editor in Chief, Deborah Lockridge, presented the award to Link, recognizing Link's ROI Cabmate Cab Suspension. Every year, HDT Top 20 Products Awards, highlight the most innovative, significant, and useful new product announcements from the previous year. The selection was made by both HDT's editors and an advisory board consisting of decision-makers at trucking fleets. The products were weighed by the viability of the innovative product and the potential value to fleets in their operation.
Link's ROI Cabmate Cab Suspension meet the criteria for the award by innovatively addressing industry issues and trends. The ROI Cabmate has the potential to save fleets money and provide value to them in their operation. The ROI Cabmate is an advanced version of its popular Cabmate cab suspension featuring Link's Road Optimized Innovations (ROI) technology, delivering a new level of ride quality that responds to road and weather conditions.
The ROI Cabmate was designed to meet growing expectations for improved efficiency, safety, and comfort among fleets. The new cab suspension will usher in a revolution in computer-controlled suspension systems for a variety of vehicle applications. The ROI Cabmate Cab Suspension employs multiple sensors and is constantly assessing environmental circumstances, while responding simultaneously. An accelerometer monitors the motion of the cab, while a position sensor measures the position and velocity of the cab relative to the frame.

"With Link's ROI Cabmate, operators will enjoy the enhanced ride quality of a vehicle in a constant state of dynamic damping," said Michael Hof, vice president of business development for Link. "With adjustments being made hundreds of times per second, the system can respond appropriately at each instant, thus drivers and passengers receive immediate results. The system deals with unexpected encounters in real time."
HDT selected 2019 recipients from dozens of products and services covered in the magazine or on Truckinginfo.com. Each of the award-winning products is featured in HDT's February issue.

"Fleets are finding numerous advantages associated with any vehicle fitted with Link's ROI Cabmate Cab Suspension System, beginning with protection of the driver, enhanced vehicle performance and greater cab stability," said Eli DeGroff, product manager for the Road Optimized Innovations platform. "Reducing driver and vehicle fatigue and enhancing ergonomics enables operators to traverse safely over an uneven route, enabling productivity to rise and driver job satisfaction to increase."
About Link Mfg., Ltd.
Link develops and manufactures a variety of suspension systems specially engineered to address the unique needs of commercial vehicles and equipment. Link is driven to outperform as the worldwide leader in heavy-duty truck cab air suspensions marketed under the brand name Cabmate. U.S.-based Link Manufacturing is an IATF 16949 and ISO 14001: 2015 (EMS) certified company whose primary products include cab, chassis and auxiliary suspensions. Canadian-based Link Suspensions of Canada is an ISO 9001 certified company whose primary products include heavy vocational and off-highway chassis suspensions. Link also makes specialty products such as tire pressure equalization systems, ramps and other products designed to enhance the productivity of commercial vehicles.
Link and Cabmate are registered trademarks of Link Mfg., Ltd.
Road Optimized Innovation and ROI are trademarks of Link Mfg., Ltd.