A Solution for Any Cargo Delivery Need
Link Manufacturing develops an extensive range of aluminum ramps that provide safe, easy and economical solutions for your loading and handling needs. Whether you require a straight, bifold, trifold, swivel, lightweight, heavy duty or a customized cargo ramp solution for your unique needs, you can be confident that each Link aluminum ramp is built to perform in the most challenging conditions. All of our aluminum ramps are engineered, tested and manufactured to the highest quality standards right here in the USA.

Swivel Ramp
Link has put a new twist on aluminum ramps. Our swivel ramp offers unmatched flexibility for loading and unloading any sized cargo, with 180-degree rotation and two storage locations. The swivel ramp mounts in the rear stored position like a traditional folding ramp, but can swing to also be stored inside, behind the wheel well – providing options for instances when a loading ramp isn't needed.
View Product Details
Mounted Ramps
Link Manufacturing has developed a broad array of deployable mounted aluminum ramp solutions engineered for commercial vans and box trucks. Link's lightweight, low-profile, mounted aluminum ramps vertically mount just inside a vehicle's rear or side doors. Each mounted ramp is made from high-strength aluminum and engineered for simple installation and ease of use. All Link mounted ramps are fast, easy and convenient to deploy.
View Product Details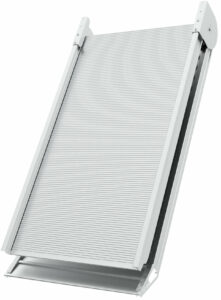 Portable Ramps
Link's portable aluminum ramps are available for both lightweight and heavy-duty applications, featuring either folding or straight designs. The extensive range of portable ramps provide users with safe, durable, and economical solutions for their cargo loading and handling needs. An optional, high-friction, perforated deck surface is also available for applications where exposure to ice, oils, moisture and other slippery substances are common.
View Product Details