The Opportunity
If Nationwide Rail Services was to include "safety" as a line item in its assets, it would not seem far-fetched to its insurance carrier. The 30 drivers employed by NRS perform 300 to 400 drop-and-hook operations every day, with a chance for injury each time – more so as the average age of the driver increases. But NRS is proactively mitigating workers' compensation costs, and its insurance carrier is participating in the process.
"Our company's success is built on a foundation of safety," says NRS President and CEO Joseph Barton. "We take great pride in our strong relationship with safety coordinators and trainers at our insurance carrier in our ongoing quest for top-notch safety."
Why SmartValve
NRS discovered that drivers entering and exiting the cab accounts for the highest number of trucking injuries, with the second highest resulting from the strain involved in adjusting the landing gear. With an average of $55,000 per worker's comp claim for significant, non-fatal drop-and-hook related injuries, NRS looked for a solution to keep drivers safer and healthier.
Using the existing air suspension, the SmartValve allows the driver to raise the landing gear off the ground, which alleviates the pressure created with a loaded trailer and reduces the effort required to wind up the landing gear.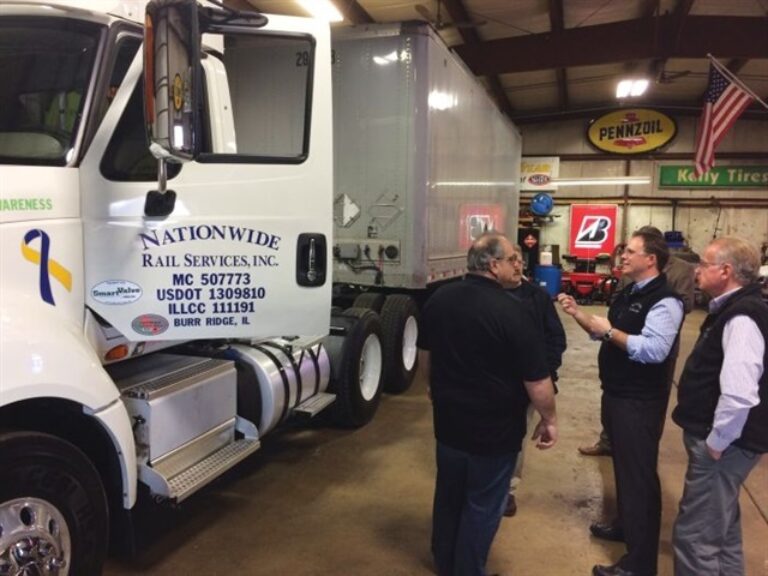 "Many of the trailer lots that NRS supports have trailers wedged in too tight to access the landing gear, the lots are uneven from years of trailer storage, and, due to new federal rules, drivers have limited time to wait for yard trucks," Barton explains. "All this results in drivers having to get in and out of the cab far more often with each drop and hook."
The driver also can safely access the trailer landing gear in tight spots by using the truck's frame rails to lift and move the trailer. In many cases, this also moves the trailer out of "potholes" created by trailer legs that are often filled with ice in the winter. That means fewer trips out of the cab.
The Results
Rush truck centers in Huntly, Illinois, recommended the fleet install the Link SmartValve, an electronic height control system with advanced features to make drop-and-hook operations faster, easier, and safter. NRS installed the SmartValve system on five of its International ProStar day cabs.
NRS found that SmartValve boosted safety for those drivers and, as an added value, it boosted efficiency with reduced drop-and-hook time. The company recognized SmartValve providing a major aid in reducing strain, particularly when the drivers are adjusting the landing gear multiple times a day.
NRS installed SmartValve on its entire fleet after testing the product through the winter months. The drivers were convinced of the safety benefits. Joseph Barton pointed out that NRS drivers operate the landing gear roughly 56,000 times in a year. Since adding SmartValves, he has halved the number of operations and significantly reduced chances for injuries. He notes as well that SmartValve is helping to keep his drivers more satisfied with their job.
"At just $1 per day of extra operating expense over a three-year period for SmartValve, it is easily worth it."
Link products are available and can be ordered through Link's nationwide network of dealers. For more information on Link products or to find a dealer, please call (800) 222-6283 or visit https://www.linkmfg.com/dealers.
Our sales team is available to provide support! If you have any questions, contact Link at 800-222-6283. We will be glad to direct you to the member of our sales team that can best answer your question.
Learn More
Link's SmartValve is the first of its kind, an all-in-one electronic height control, eliminating the need for separate components that make up other electronic systems, reducing cost, preventing injuries, and saving fuel.
Learn More