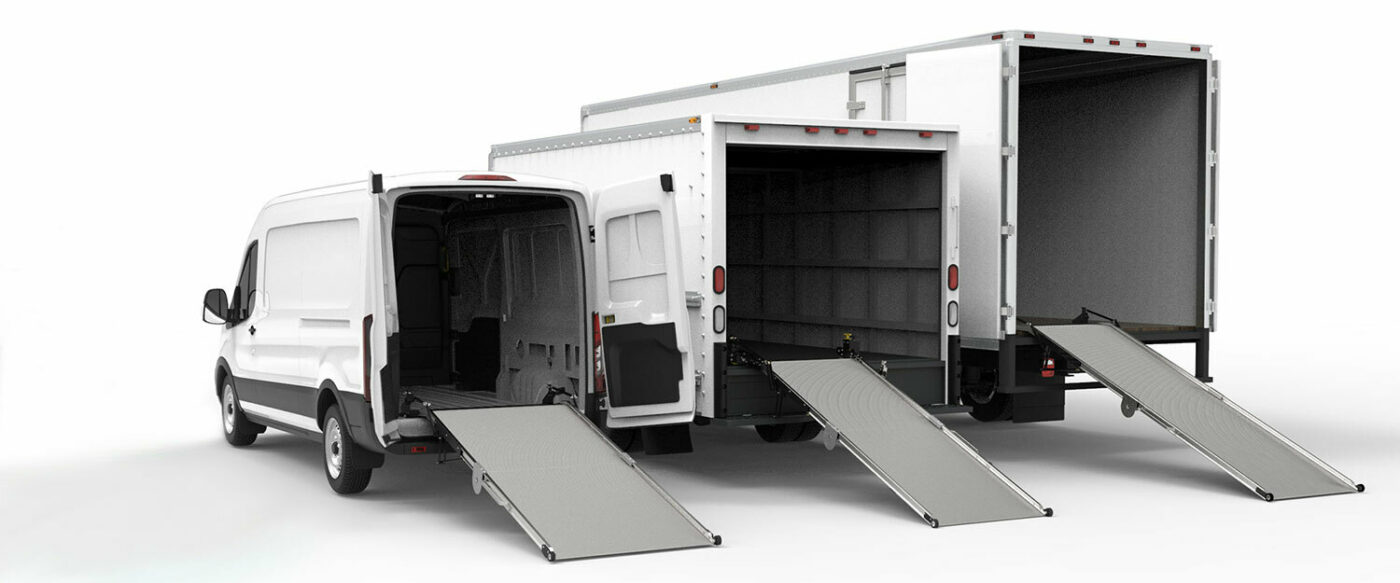 A Ramp for All Applications
A low-cost, low-maintenance solution for various applications
Let's face it, work trucks do just that—they work. The people who operate them work too, but some have to work harder than others. Whether it's a delivery truck or a service vehicle, removing something heavy from a cargo hold can be slow, laborious and unsafe. When moving freight, fleets are more prone to worker injuries. A simple solution to lower this risk is inexpensive and versatile: an aluminum ramp.
Rampant Ramp Usage
Hydraulic liftgates and compact electric cranes can both be a great help in cargo and equipment unloading, but they present their own issues. Liftgate equipment needs regular maintenance performed and its friction points greased. A lot can go wrong if the equipment is not properly cared for and oftentimes even if it is.
Operating liftgates and cranes with any frequency can also deplete batteries faster than alternators can recharge them. As the commercial vehicle industry moves toward zero emission trucks, these energy-hungry technologies will face new challenges.
Most commonly mounted on the exterior of a vehicle, liftgates are constantly exposed to the elements. They can also become wet, icy, or contaminated by road debris.
Based in Rockwall, Texas, Rob DeMars, director of operations for American Bobtail, mused that the advantages of Link ramps' ability to be stored on the interior of the vehicle became even more apparent during Winter Storm Uri that ravaged the state in February 2021.

"We install Link Manufacturing's line of lightweight, low-profile aluminum ramps," says DeMars. "They mount and stow vertically inside the rear or side doors of a variety of vehicle types, including cargo vans, step vans, cutaway vans, box trucks and straight trucks. They aren't exposed to the weather. Folks using the ramps could just fold them back into the vertical position and brush or wipe away snow or moisture off the surface. Just like some of the people and the infrastructure, not all of the hydraulic liftgates did so well in the unusually cold weather."
Easy Does It
Link ramps mount just inside a vehicle's doors and take up less than 12 inches of horizontal space. Unlike hydraulic liftgates, Link ramps require no training to operate, so any worker can use them. The Link ramps are easy to use, and an optional built-in spring-assist feature is available on some Link ramp models. With the spring-assist feature, only 50 lbs of force is required to open and close the ramp.
With or without the spring assist feature, Link's aluminum ramps can be unfolded and folded into their low-profile vertical storage position in less than 10 seconds. Workers can open the ramp, make deliveries, close the ramp, and be back on the road in moments.
Link also makes a swivel ramp that enables users to rotate the ramp 180 degrees in or out of the vehicle, like a door. By swinging back and locking into position, Link's LSR90 Series Swivel Ramp provides access to cargo areas and is there when needed and out of the way when it's not.
The LSR90 Swivel ramp mounts in the rear stored position like Link's line of folding ramps. It can also be rotated 90 degrees inside the vehicle, stowing behind the wheel well. The ramp can also swing 90 degrees outside of the vehicle, offering full access to the cargo area.
Link ramps come in widths of between 24 to 47 inches and can easily accommodate standard hand trucks and other cargo conveyance equipment. Bifold ramp lengths range from 72 to 135 inches. Trifold models extend to 119 inches. Trifold ramps also feature an adjustable support mechanism for extra stability.
All Industries
Link has nine standard ramp designs to meet a variety of applications and just introduced a 42-inch by 108-inch ramp. The new ramp gives van users more width without blocking door access when mounted to one side and folded to its upright storage position. Weight capacities for Link's broad ramp offering range from 350 to 1,500 lbs.
Additionally, applications for the ramps are as varied as the fleets that use them. Often Link ramps are installed on delivery vehicles. From general contractors to plumbers, to heavy haul rooting machines, to colleges and universities, even to hospitals, there are many applications for ramps. Anyone in any industry that is loading and unloading heavy equipment is a candidate for Link ramps.
"Our customer base is diverse, and out here in Hollywood we serve a lot of digital engineers that work in the entertainment industry," says American Van Works' Gibbs. "They use the Link ramps to roll very expensive carted equipment in and out of their vehicles. I have to add that they love the swivel ramp because of the extra access it gives them to the cargo area."
Gibbs says there are a lot of small delivery fleets in LA and that the area's microbrewers like the ramps a lot. The Link ramp has also caught the attention of local cycle shops that appreciate the width and sturdiness of the product.
Delivery fleets and medical supply companies also widely use Link ramps. Mounting on the side door of a box truck, the ramps allow easy loading and unloading in allies and onto sidewalks. Paired with the option wheel kit, the ramp transitions smoothly when deploying on all surface angles and materials, making Link Ramps ideal for anyone transporting goods in a wide variety of settings.
Another perk of Link ramps is the longevity of the units. Customers note their ramps outlasting more than one vehicle. Often, they remove the ramp from an old vehicle and install it in the new truck.
"I keep 10 of Links LB20 Series bifold-mount ramps in stock at all times because I know there is always a market for them," American Bobtail's DeMars says. "They make my customers happy – and that makes me happy."
Overall, customers speak highly of Link Ramps and the accessibility and convenience they provide. Link is continuously working to improve cargo transportation, making equipment loading and unloading easy while increasing safety for industry workers.
If you have any questions about our Link Ramps, please let us know. Our team is happy to answer your questions and direct you to a dealer near you.
Blog Author
Lynn Blake
National Account Manager - Ramps