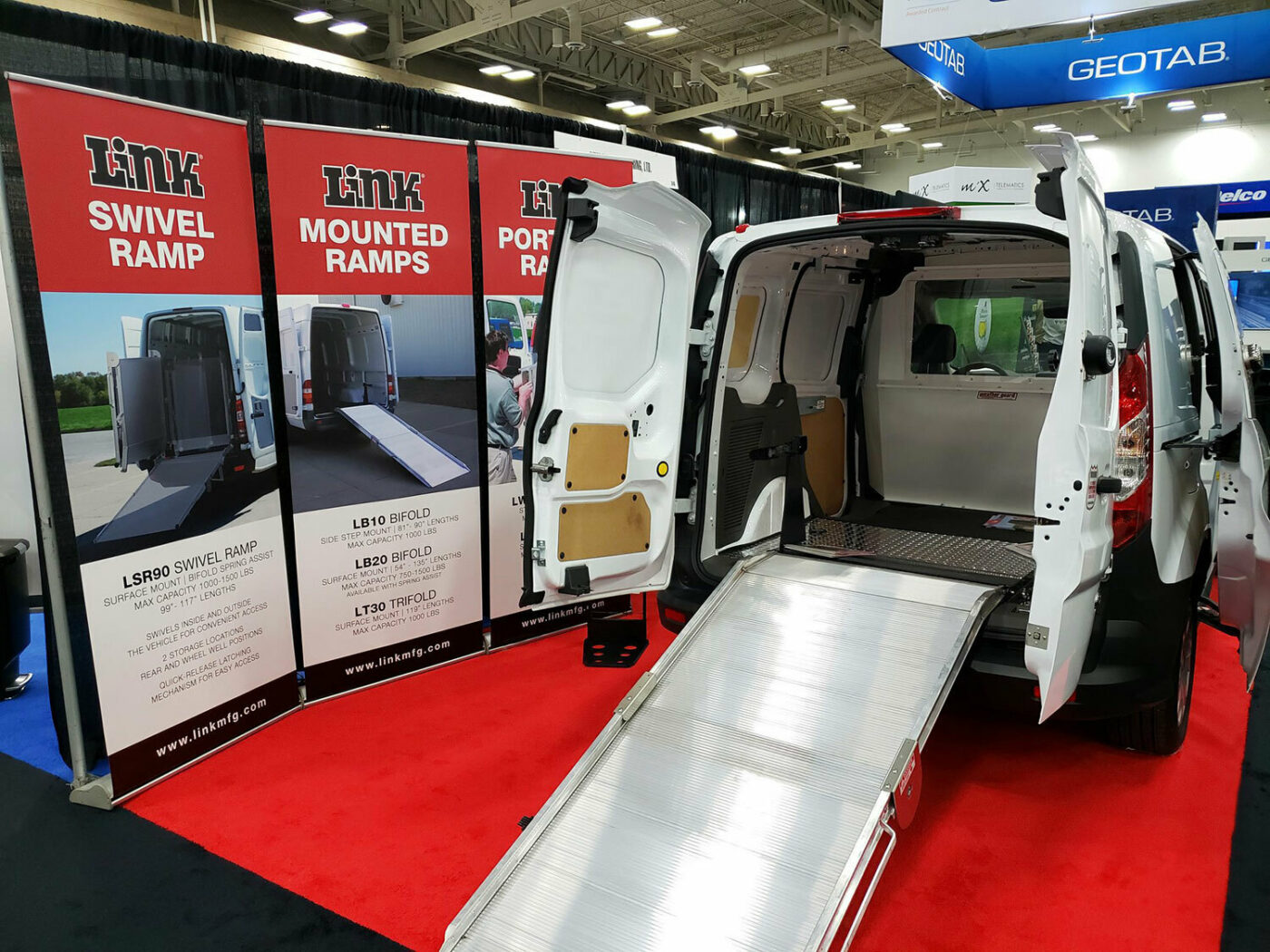 Showcasing the Advantages of Link Ramps at NAFA
I spent the better part of last week at the NAFA Institute & Expo in Louisville, Ky., meeting with members of the fleet management industry who were representing corporations, universities, and all levels of government who use vehicles to move goods or people. It's an important event for us to connect with fleet owners and managers, buyers, upfitters and motor pool professionals, and explain how our selection of ramps can improve their operations.
During the event we learned a lot about the latest advancements in driver safety and accident avoidance technologies. We also had a number of discussions with NAFA attendees centered on ergonomic concerns for the person making the delivery, and that's where Link Ramps come into play. Our conversations quickly turned to how our ramps can take some of the heavy lifting off the delivery professional's shoulders (and backs), while being an economical, efficient solution for fleet owners.
Professionals who use any of our mounted, portable or swivel ramps come in many forms. They include catering and cleaning companies, plumbers, even university bands and athletic departments. Although they are all transporting and delivering different types of equipment, what they all appreciate is the number of benefits our ramps provide, including:
Productivity: Our ramps allow quick access, better loading and unloading of cargo, and an upright bifold mounted design that provides space efficiency and easy lifting.
Safety: Our locking modules enable users to transport and use the ramp safely and effortlessly.
Versatility: We've incorporated important design features with the end user in mind. These can include different mounting locations, length and width options, spring assist options, and mounted and portable ramp options.
Strength: We have increased the maximum weight capacity for all our ramps to better suit the needs of our customers.
Cost Effectiveness: Compared to lift gates, our aluminum ramps are an economical and efficient way to move cargo.
If you're interested in learning more about our ramps and which one would best fit your application, you can view our Ramp Brochure for full details on the unique features and capabilities of our mounted, portable and swivel ramps.
Attendees Get a Hands-On Experience with Link Ramps
We were fortunate to be joined by our customer, US Upfitters, in our NAFA booth. Together, we showcased our LB20 Ramp in a Ford Transit Connect, so attendees could see one of our ramps mounted in the same type of cargo van they use every day. If you're interested in determining which one of our ramps is right for your vehicle and application, our Ramp Fit Guide will help you decide which options are available.
If you haven't done your research on our ramps, please check them out. I'm confident you'll appreciate the quality, comprehensive warranty, and the fact they are made in the United States. If you still have questions, please let me know and I would be happy to discuss what options we have to fit your vehicles and business.
Blog Author
Lynn Blake
National Account Manager - Ramps