Link's All Makes 1500 Series height control valve saves time and money for distributors, fleets and anyone who buys parts by reducing their entire replacement valve inventory to just four SKUs.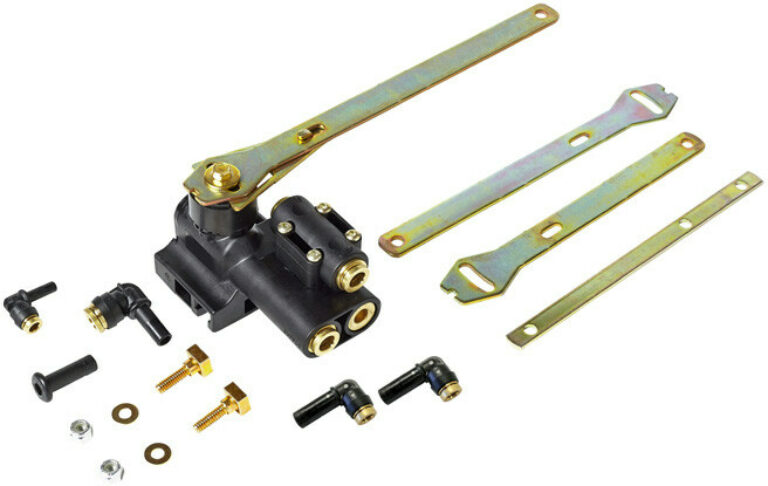 ORLANDO, FLORIDA, USA (Feb. 28, 2023) - Link Mfg., Ltd., the leader in specialty-engineered suspensions, suspension controls and air management products and a Tier-1 supplier to major heavy-duty commercial truck manufacturers, formally introduced its highly streamlined package of four All Makes 1500 Series height control valves (HCVs), capable of retrofitting almost all existing truck and trailer air suspension systems. The family of four valves, which all come complete with a universal mounting kit, will be on display in Booth # 1127 at the Technology Maintenance Council (TMC) 2023 Spring Meeting & Transportation Technology Exhibition in Orlando, Fla.
Link's All Makes 1500 Series HCV kits are designed specifically to meet the needs of the tractor, trailer and transit industries. These four mechanical height control valves offer the ultimate in flexibility in mounting, plumbing and lever attachments. Link's All Makes 1500 Series HCVs allow distributors or dealers to reduce SKU count, lower their inventory costs and improve their service times, helping to increase vehicle uptime while reducing vehicle downtime.
Each of the four valves is compact and lightweight, and each features an intelligent modular design. With pressure actuation, zero pressure and non-dump configurations, distributors, maintenance professionals, fleets and independent owner-operators can rest assured that they now have easy access to the ideal replacement suspension control system for virtually any applications that come their way.
"With our family of four All Makes 1500 Series HCVs, Link is delivering 'true' all-makes aftermarket replacement kits that allow folks to stock so few parts, but to fit so many trucks and trailers," said Brian Kujala, vice president of business development for Link Manufacturing. "Each kit contains all the necessary elbow connectors, quick-connect fittings and hardware to make installation a simple, less-than-15-minute exercise."
Push-to-connect (PTC) fittings and supply port check valves make the installation process efficient, fast and simple, and metric fittings are also available. Each valve's alignment notch can be rotated 180 degrees to get the proper fill-exhaust directions for the desired lever travel. With universal mounting and multiple available lever orientations, the All Makes 1500 Series is the most versatile height control valve for the transportation industry.
Kujala explained that the big advantage is not having to worry about OE reference part numbers. "This is sometimes hard for people to understand, but all we need to ask is: 'Pressure applied to dump? And the answer is our H01501UD; Pressure removed? And the answer is our H01502UNC; Non dump or no dump feature? And the answer is our H01500; 1/4-inch fitting option? And the answer is our H01501PUD."
Zero pressure, pressure-dump and non-dump configurations are available to fit the needs of any vehicle's application. All Makes 1500 Series HCVs come in optional high-flow and low-flow versions. Variable air flow adjustments can help reduce air consumption, with a low lever angle providing reduced air flow while a higher lever angle increases air flow.
"Link's All Makes 1500 Series valves can be mounted inline or upright to the chassis with a 3/8-inch PTC fitting standard or an available 1/4-inch custom PTC fitting," said Kujala. "At less than one pound and with their compact design, the All Makes 1500 Series HCVs minimize vehicle weights, helping to maximize vehicle payloads."
Link products are available and can be ordered through Link's nationwide network of dealers. For more information on Link products or to find a dealer, please call (800) 222-6283
About Link Mfg., Ltd.
Link develops and manufactures a variety of suspensions, suspension controls and specialty air management products, engineered to address the unique needs of commercial vehicle, trailer, motorcoach, transit bus, shuttle bus, recreational vehicle and specialty vehicle markets. Link is the worldwide leader in heavy-duty truck cab air suspensions marketed under the brand name Cabmate. The company is also a leading innovator in vehicle air management and dynamic air suspension control technologies marketed under the brand names SmartValve, Smart Air Management Systems (SAMS), and Road Optimized Innovations (ROI). With manufacturing locations in the United States and Canada and distribution in Europe, Link Mfg., Ltd., is an IATF 16949– and ISO 14001: 2015 (EMS)–certified company whose primary products include cab, auxiliary and chassis suspensions, including heavy vocational, off-highway and air suspension management technologies. Link also manufactures specialty products such as Cat's Eye–brand tire pressure monitoring and equalization systems, ramps and other products designed to enhance the productivity of commercial vehicles.
Link is a registered trademark of Link Mfg., Ltd.