Link's heavy-duty TR50-HDT gives trailer manufacturers an alternative to running 30K quads, reducing wheel scrubbing, dynamic stress and eliminating almost a ton of weight.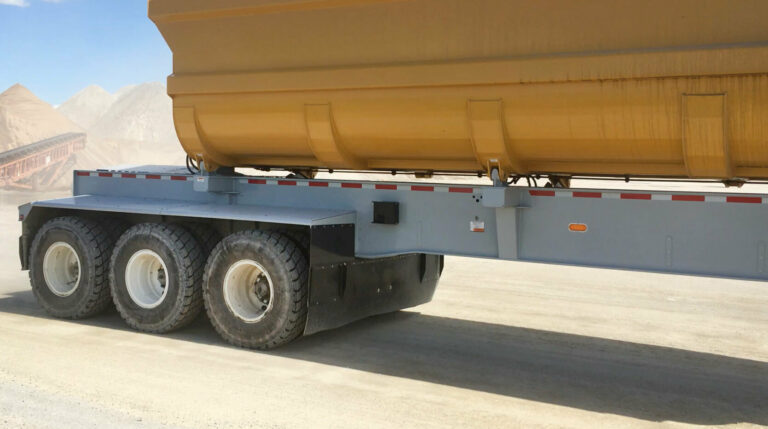 LAS VEGAS, USA — Link Mfg., Ltd., the leader in specialty-engineered suspensions, presented its new TR50-HDT heavy-duty off-highway air-ride suspension to the industry for the first time today. Three of the 50K suspensions will be mounted in a tri-axle configuration on a 100-ton-capacity Smithco mining side tipper trailer. The trailer will be displayed in Smithco's booth F2248, at CONEXPO-CON/AGG 2020 in Las Vegas, March 10-14.
Until now, heavy-haul, off-highway trailer manufacturers had few choices when it came to their suspensions. They could outfit a trailer with a tri-axle walking-beam suspension, in which case they were exposing the trailer to jounce, rebound and other significant dynamic stresses when encountering uneven terrain. To improve ride quality, manufacturers could also choose lower-capacity air-ride suspensions, but in the quad configuration required to bear heavier loads, these imposed their own stress-inducing forces associated with wheel drag, or scrubbing.
With the introduction of its new TR50-HDT heavy-duty off-highway air-ride suspension, trailer manufacturers have a more effective and efficient way to equip their heavy-haul trailers for severe-duty environments. The TR50-HDT, in its tri-axle configuration, gives trailer OEMs the ability to achieve the higher load capacities they seek, while maintaining the superior ride characteristics of an air-ride suspension, without the added weight and scrubbing issues associated with a quad.

"The TR50-HDT was engineered specifically for off-highway and mining trailer applications and was designed to reduce axle and trailer stress, overall weight and maintenance costs," said Greg Hulstein, director of engineering for Link Mfg., Ltd. "The high-capacity air-ride suspension offers maximum performance, even in the most punishing environments."
The TR50-HDT offers trailer OEMs the highest capacity and range of articulation available in any air suspension. Designed for a 17-inch ride height with +/- 4 inches of travel, the suspension is also available in other ride heights upon request. The TR50-HDT's maximum axle spread is 60 inches at its 50K capacity, and it can operate at up to 40 mph (65 kmph) even over rugged terrain

Each TR50-HDT features three high-capacity air springs, and the suspension's performance characteristics are further enhanced by its heavy-duty ride shocks. The shocks help mitigate the dynamic forces that can damage trailers, axles and wheel ends, and the system is flexibly designed to allow additional shocks to be added if desired.

"We were excited to work with Link in the development of its new TR50-HDT," Duane Myears, sales manager for Smithco Side Dump Trailers, said. "This suspension fit our needs precisely, allowing us to migrate away from heavier quad suspensions and to offer our customers a higher-capacity, better performing trailer with almost a ton of weight savings."
Link's TR50-HDT can be configured to fit the majority of heavy-haul trailers with 17-inch ride heights, and further customization is available. Two-axle A train, three-axle B train and super B train axle configurations can all be accommodated by the TR50-HDT.
For superior durability and low maintenance, each TR50-HDT heavy-duty off-highway air-ride suspension is fully integrated with a 6-inch solid round KGI axle. The 92.8-inch axle track utilizes 14R 25-inch wheel ends and 18-inch drum brakes.
About Link Mfg., Ltd.
Link develops and manufactures a variety of suspension systems specially engineered to address the unique needs of commercial vehicles and equipment. Link is driven to outperform as the worldwide leader in heavy-duty truck cab air suspensions marketed under the brand name Cabmate. U.S.-based Link Manufacturing is an ISO 14001:2015 (EMS) certified company whose primary products include cab, chassis and auxiliary suspensions. Canadian-based Link Suspensions of Canada is an ISO 9001 certified company whose primary products include heavy vocational and off-highway chassis suspensions. Link also makes specialty products such as tire pressure equalization systems, ramps and other products designed to enhance the productivity of commercial vehicles.

Link and Cabmate are registered trademarks of Link Mfg., Ltd.