Link honors National Fallen Firefighters Foundation with donation during kickoff of purpose-built Redline Performance Series Suspensions, offering expanded weight capacities that meet the unique requirements of individual fire departments.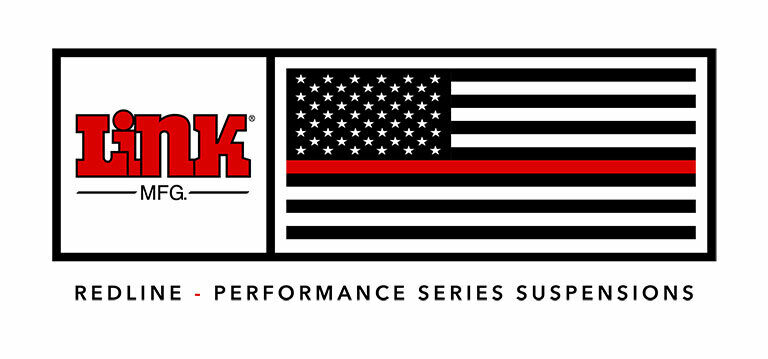 SIOUX CENTER, Iowa, USA (Oct. 6, 2020) — Link Mfg., Ltd., the leader in specialty-engineered suspensions, announced the introduction of its new Redline Performance Series Suspensions that include a broader selection of weight capacities for its acclaimed Air Link tandem drive axle suspension. In tribute to fire departments and personnel across North America, the company has created a dedicated charity dubbed "Link Cares" that will regularly contribute to firefighter-related charitable organizations across North America. Link Cares has made an inaugural contribution of $2,000 to the National Fallen Firefighters Foundation (NFFF).
"Link has met the demands of major fire departments and equipment manufacturers with high-performance, heavy-duty vehicle suspensions for more than 20 years," said Chris English, managing director, Link Suspensions of Canada. "The development of our Redline Performance Series Suspensions and the establishment of our Link Cares charity represent our company's core values of servanthood and our sincere reverence for the heroic nature of the firefighting culture."
Redline Performance Series Suspensions expands Link's product range, offering new weight ratings as a response to market demand and the unique combinations of equipment and apparatus used by individual fire departments. The Air Link Redline tandem drive axle suspension will now be available in a carrying capacity of 62K to 85K.
The Air Link Redline tandem axle suspension features a unique air spring over walking beam design, patented by Link close to 30 years ago. Originally engineered to handle extreme payloads in harsh, off-highway and military environments, this rugged suspension meets the demands of aerial fire and rescue vehicles and then some. It fully integrates with Dana, Meritor, SSU and Mack axles.
The Air Link Redline tandem axle suspension delivers superior emergency vehicle performance, a smoother ride, higher roll stability, maximum articulation, better traction and has lower maintenance requirements. Link's time-tested air-over-walking-beam technology uses large, high-volume, low-frequency air springs that enable firefighters to experience a consistently stable and comfortable ride, whether they're racing to an emergency on a city street, on an unpaved road or without benefit of either.
"The City of Syracuse has used the Air Link suspension for decades and has benefited from its reliability and ease of service," said Zach Smith, fleet maintenance manager for the City of Syracuse, NY Department of Fire. "The department responds to 22,000 calls annually and operates this suspension on its Sutphen tower fleet."
Link Redline Performance Series Suspensions deliver everything fire departments demand in a heavy-duty suspension, including better overall handling, maximum ride comfort and enhanced safety for firefighters. Link's suspensions also improve the life expectancy of bodies and aerial equipment on the fire trucks they serve, and have been proven to isolate the chassis platform and contingent structures from stress-inducing impacts encountered on-highway and off. All Link Redline Performance Series Suspensions are 100 percent off-highway rated, all can be retrofitted on existing vehicles and all come with a six-month money-back guarantee.
The Air Link Redline tandem axle suspension features dual height-control valves that help maintain proper ride height and vehicle leveling. Convenient air dump capabilities allow some of today's higher-profile apparatus to kneel under older garage doors with less clearance.
All Redline Performance Series Suspensions feature heavy duty bushings and are treated with Link's exclusive Link-KOAT migratory self-healing metal treatment. Link-KOAT provides unparalleled corrosion resistance and rust protection, even when surfaces are exposed to excessive cleaning, harsh chemicals and the severe-duty environments commonly encountered. The bushings also resist solvents, require no lubrication or maintenance and are far more durable than rubber.
"Link is committed to building the safest and best-performing suspensions for fire apparatus," English said. "We will never stop improving and innovating and our Redline Performance Series Suspensions and Link Cares charity are testaments to our dedication to firefighting and to the men and women who serve that profession so valiantly."
Link's Redline Performance Series Suspensions can be ordered through local OEM dealers. For more information on Redline Performance Series Suspensions and the Link Cares charity, please call (800) 222-6283 or visit http://www.linkmfg.com/redline

About Link Mfg., Ltd.
Link develops and manufactures a variety of suspension systems specially engineered to address the unique needs of commercial vehicles and equipment. Link is driven to outperform as the worldwide leader in heavy-duty truck cab air suspensions marketed under the brand name Cabmate. U.S.-based Link Manufacturing is an IATF 16949 and ISO 14001: 2015 (EMS) certified company whose primary products include cab, chassis and auxiliary suspensions. Canadian-based Link Suspensions of Canada is an ISO 9001 certified company whose primary products include heavy vocational and off-highway chassis suspensions. Link also makes specialty products such as tire pressure equalization systems, ramps and other products designed to enhance the productivity of commercial vehicles.
Link and Air Link are registered trademarks of Link Mfg., Ltd.
Redline & Link Cares are trademarks of Link Mfg., Ltd.
Names of original equipment manufacturers and the National Fallen Firefighters Foundation (NFFF) may be trademarks of their respective organizations. References to vehicle makes, models and product designations are for reference purposes only. Neither Link Mfg., nor its products are sponsored or endorsed by the referenced original equipment manufacturers or the National Fallen Firefighters Foundation (NFFF), and there is nothing else in the use of these designations that should lead a reader to believe that there is an association between Link Mfg. and these organizations.