Trucking journalist committee announces ROI Cabmate as a Top 5 product for technical achievement in 2020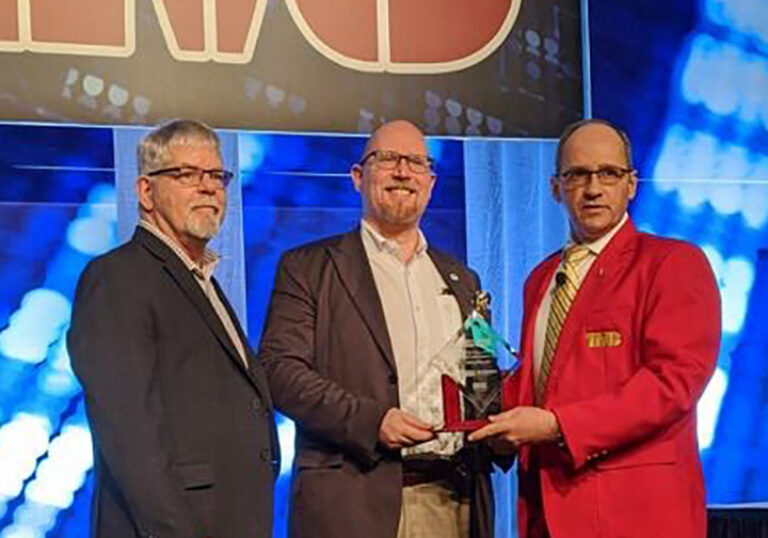 ATLANTA, Georgia, USA (February 27, 2020) – Link Mfg., LTD. was awarded with the Jim Winsor Technical Achievement Award at the annual Technology & Maintenance Council's (TMC) Meeting & Transportation Technology Exhibition for its ROI Cabmate Cab Suspension. The award recognizes trucking products and technologies that display innovation, vision, technical achievement, and applicability. The Top 5 products selected for the award were nominated by the North American Truck Writers committee, who identify and evaluate new products and technologies in the industry.
Link's ROI Cabmate Cab Suspension displays the qualities that the American Truck Writers look for in new trucking industry products by considering and improving on industry issues and ideas. The ROI Cabmate utilizes electronically controlled components to maximize ride comfort and stability. The ROI Cabmate was released in 2019 as a product to improve efficiency, safety and ride quality. The product achieves greater efficiency through the infinitely variable damping rate of the electronically controlled shock absorbers. The infinite variable rate allows the suspension to respond to large or small bumps accurately to keep the ride smoother than was previously possible.
With ROI Cabmate, operators will benefit from an enhanced ride quality and reduced road shock. Operators will notice additional cab control and experience smoother transitions over bridges, railroad crossings, and uneven highway.
"Test fleets have appreciated the advantage that ROI Cabmate provides in protecting the driver and the structure of the cab from road stress," said Zane McCarthy, business development manager. "The cab environment is improved with the electronically controlled shock absorbers providing a quieter, smoother ride, which test fleets have claimed to assist in reducing driver fatigue. Team drivers have also benefited from a more limited range of cab movement while in a sleeper bunk."
The North American Truck Writers committee selected the Top 5 products for the Jim Winsor Technical Achievement Award from a pool of more than 30 new products announced in 2019. North America's trucking trade press has been honoring new products since 1991. Click here for the news release from FleetOwner.com

"Recognition by the Jim Winsor Technical Achievement Award exposes the impact that ROI Cabmate will have on drivers and equipment," said Jim Huls, Link's President. "We see where the industry is headed, and the ROI Cabmate provides drivers with the ability to safely travel over any road quality using todays industry-best technologies."
In the committee's view, ROI Cabmate meets the criteria of the Jim Winsor award and more by:
Using advanced technology to improve ride quality and driver satisfaction
Protecting the cab structure by controlling stress that can lead to higher maintenance costs
Improving safety by increasing vehicle stability and providing a more restful sleep for team drivers
About Link Mfg., Ltd.
Link develops and manufactures a variety of suspension systems specially engineered to address the unique needs of commercial vehicles and equipment. Link is driven to outperform as the worldwide leader in heavy-duty truck cab air suspensions marketed under the brand name Cabmate. U.S.-based Link Manufacturing is an IATF 16949 and ISO 14001: 2015 (EMS) certified company whose primary products include cab, chassis and auxiliary suspensions. Canadian-based Link Suspensions of Canada is an ISO 9001 certified company whose primary products include heavy vocational and off-highway chassis suspensions. Link also makes specialty products such as tire pressure equalization systems, ramps and other products designed to enhance the productivity of commercial vehicles.
Link and Cabmate are registered trademarks of Link Mfg., Ltd.
Road Optimized Innovation and ROI are trademarks of Link Mfg., Ltd.