Link Mfg honored with the 2017 SPM Leader level by PACCAR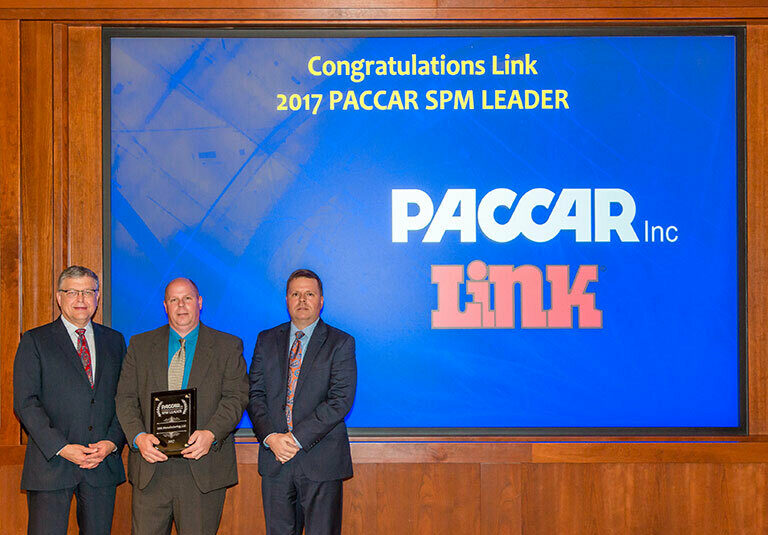 SIOUX CENTER, Iowa, USA (January 12, 2018) – Link Mfg., Ltd., it has been recognized as a Leader in the 2017 Supplier Performance Management (SPM) program by PACCAR. Since 2014 PACCAR has recognized its top performing suppliers through the Supplier Performance Management (SPM) program. This year Link has been recognized by PACCAR as one of six 2017 SPM Leaders - earning high scores amongst the six companies reaching the 2017 SPM Leader level.

The PACCAR SPM program evaluates a supplier's performance in the areas of product development, operations support and business alignment. Through the SPM program, suppliers and PACCAR cross-functional teams collaborate to identify performance enhancements and to continuously improve the supplier/customer relationship. This program enhances the likelihood of high performance from the supply base.

"This recognition reflects our commitment to create a customer-focused culture and our team's drive to outperform by supplying Tier 1 component systems with an on-time delivery of over 99 percent," said Jim Huls. "One of our key achievements in 2017 was reducing our PPM metrics to support PACCAR's continuous improvement efforts. In 2017 we improved our OE PPM from less than 50 to less than 10. While our previous rate of less than 50 PPM was good, further reducing the rate aligns with our customers' commitment to providing their customers with the highest quality products possible."
PACCAR Inc. is a global technology leader in the design, manufacture and customer support of high-quality light-, medium-, and heavy-duty trucks under the Kenworth, Peterbilt and DAF nameplates. PACCAR also designs and manufactures advanced diesel engines, provides financial services and information technology, and distributes truck parts related to its principal business. PACCAR suppliers play an important role in providing quality trucks and products to customers.
About Link Mfg., Ltd.
Link develops and manufactures a variety of suspension systems specially engineered to address the unique needs of commercial vehicles and equipment. Link is driven to outperform as the worldwide leader in heavy-duty truck cab air suspensions marketed under the brand name Cabmate. U.S.-based Link Manufacturing is an IATF 16949 and ISO 14001: 2015 (EMS) certified company whose primary products include cab, chassis and auxiliary suspensions. Canadian-based Link Suspensions of Canada is an ISO 9001 certified company whose primary products include heavy vocational and off-highway chassis suspensions. Link also makes specialty products such as tire pressure equalization systems, ramps and other products designed to enhance the productivity of commercial vehicles.
Link and Cabmate are registered trademarks of Link Mfg., Ltd.