Link Mfg honored with the 2016 SPM Leader level by PACCAR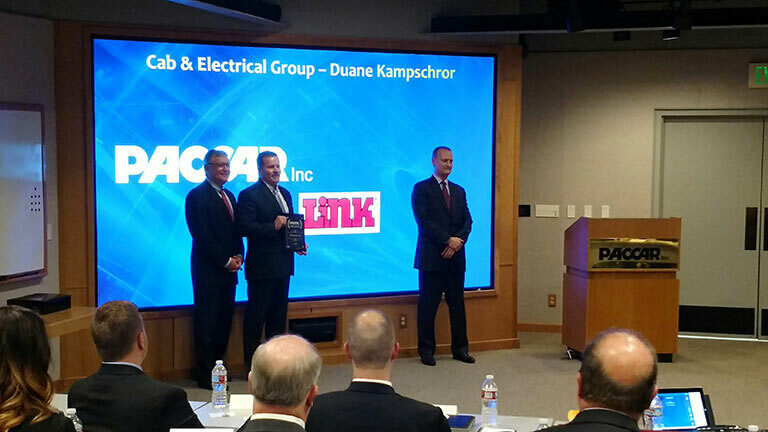 SIOUX CENTER, Iowa, USA (December 21, 2016) – Link Mfg., Ltd., announced it has been recognized as a Leader in the 2016 Supplier Performance Management (SPM) program by PACCAR.
Each year, PACCAR recognizes the top performing suppliers in its SPM program. The SPM program evaluates a supplier's performance in the areas of product development, operations support and business alignment. Through the SPM program, suppliers and PACCAR cross-functional teams collaborate to identify performance enhancements and to develop product innovations. Link Manufacturing has been developing and supplying suspension solutions for PACCAR trucks for nearly 30 years.

"We are honored to have earned the highest score among seven suppliers reaching the 2016 SPM Leader level," said Jim Huls, executive vice president and chief operating officer at Link Manufacturing. "The recognition reflects our customer-focused culture and team's driven to outperform work ethic by supplying Tier 1 component systems with an on time delivery score of over 99 percent. In addition, we continually strive to lower our delivered quality PPM metrics and have a continuous improvement mindset that strives to further align with our customers' business objectives. We are excited to continue our collaboration with PACCAR as a Leader of the SPM program in the new year."
PACCAR Inc. is a global technology leader in the design, manufacture and customer support of high-quality light-, medium-, and heavy-duty trucks under the Kenworth, Peterbilt and DAF nameplates. PACCAR also designs and manufactures advanced diesel engines, provides financial services and information technology, and distributes truck parts related to its principal business.
About Link Mfg., Ltd.
Link develops and manufactures a variety of suspension systems specially engineered to address the unique needs of commercial vehicles and equipment. Link is driven to outperform as the worldwide leader in heavy-duty truck cab air suspensions marketed under the brand name Cabmate. U.S.-based Link Manufacturing is an IATF 16949 and ISO 14001: 2015 (EMS) certified company whose primary products include cab, chassis and auxiliary suspensions. Canadian-based Link Suspensions of Canada is an ISO 9001 certified company whose primary products include heavy vocational and off-highway chassis suspensions. Link also makes specialty products such as tire pressure equalization systems, ramps and other products designed to enhance the productivity of commercial vehicles.
Link and Cabmate are registered trademarks of Link Mfg., Ltd.