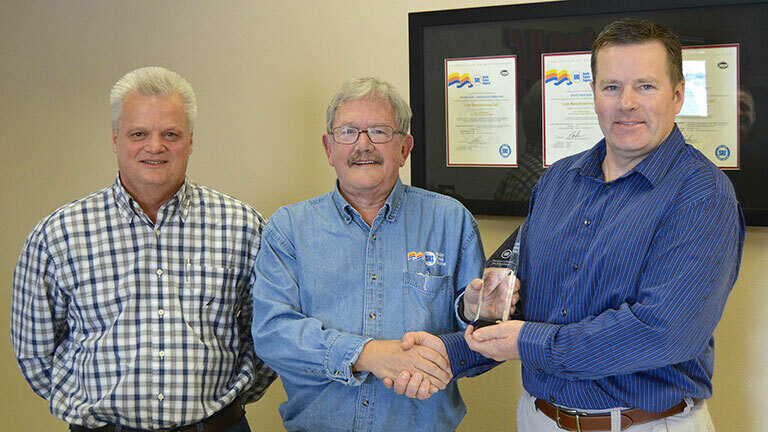 SIOUX CENTER, Iowa, USA (January 12, 2016) – Link Mfg., Ltd. is pleased to announce that it was recently recognized for its 20 years of continuous ISO Quality Certification. Link Manufacturing is ISO 9001, ISO/TS 16949 and ISO 14001 certified. On December 3, 2015, David Cummings, Lead Auditor with SRI Quality System Registrar, presented the award to Pete Hoekstra, Quality Manager and Jim Huls, Vice President and General Manager of Link Manufacturing.

"We are very proud of our long-standing relationship with SRI, and our pledge to upholding the highest quality standards set by ISO," said Huls. "Providing outstanding quality for our customers is one of the key tenets of our Mission Statement. It's a valuable point of differentiation we bring to our OEM partners, and something we've been committed to since our inception more than 35 years ago."
ISO/TS16949 is an automotive sector-specific Quality Management System set of requirements, and ISO 14001 is an international standard for Environmental Management Systems (EMS). ISO international standards ensure that products are safe, reliable and of good quality. Link Manufacturing first received ISO 9001 certification in 1995; ISO/TS 16949 certification in 2004, and ISO 14001 certification in 2014.
About Link Mfg., Ltd.
Link develops and manufactures a variety of suspension systems specially engineered to address the unique needs of commercial vehicles and equipment. Link is driven to outperform as the worldwide leader in heavy-duty truck cab air suspensions marketed under the brand name Cabmate. U.S.-based Link Manufacturing is an IATF 16949 and ISO 14001: 2015 (EMS) certified company whose primary products include cab, chassis and auxiliary suspensions. Canadian-based Link Suspensions of Canada is an ISO 9001 certified company whose primary products include heavy vocational and off-highway chassis suspensions. Link also makes specialty products such as tire pressure equalization systems, ramps and other products designed to enhance the productivity of commercial vehicles.
Link and Cabmate are registered trademarks of Link Mfg., Ltd.