Agriculture is a tough business and farm equipment takes a beating from diverse terrain and year-round outdoor weather conditions. Link is able to apply the technology we've developed for the heavy-duty trucking industry to address the challenges faced by manufacturers and operators of agriculture vehicles. By isolating the vibrations that get transferred to the cab, vehicles equipped with Link suspensions offer a more comfortable ride for the driver and better protect their long-term investment.
Cabmate®
For over four decades, Link has been committed to engineering heavy-duty trucking solutions that raise the bar for performance, installation efficiency and overall driver well being. This devotion started in 1980 with one truck driver searching for a better ride. The result of his efforts was Cabmate®, a revolutionary cab air suspension system. Today, Cabmate® is the standard in premium cab suspensions, and Link supplies more OEM cab suspensions than anyone else in the world.
View Product Details
Self-Steer
Available in 8K, 10K, 13.5K (drum or disc brake option), and 20K capacities, Link's newly improved family of self-steer auxiliary suspensions enhances the performance, strength and uptime of work trucks and heavy-duty vocational vehicles.
View Product Details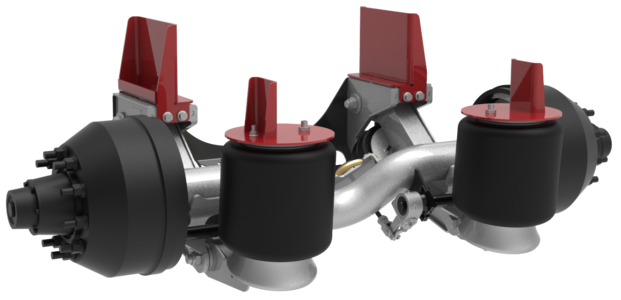 Non-Steer
Our Non-Steer lift axle is available in 13K, 17K and 20K capacities. The Non-Steer 20K Lift Axle, for tag or pusher positions, incorporates several patented features for easier installation, increased stability and durable performance. The unique design of the Model 5500 allows 11'' to 15'' of ride height and 15'' of travel, making it outstanding for tag position applications encountering uneven terrain.
View Product Details