Proven Performance You Can Rely On

Link® fire and rescue suspensions deliver everything you demand in a heavy-duty suspension with better handling, improved roll stability, low maintenance, superior traction, and maximum ride comfort. Improve the body and aerial life of your fire truck by using the Link® air ride suspensions, which have been proven to isolate the chassis structure from road vibration stress.
Link is a certified member of the Fire Apparatus Manufacturers' Association.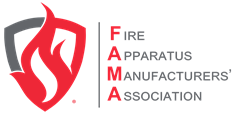 Air Link® Redline
The Air Link® tandem drive axle suspension is a unique combination of air spring over walking beam technology. It delivers everything you demand in an emergency vehicle suspension — high roll stability, low maintenance and a smooth ride. The unique design also ensures maximum traction and load equalization. The distinctive Air Link® design provides optimum ride height and premium on or off highway performance.
View Product Details
Atlas™ Redline
The Atlas™ chassis suspension is designed from the ground up for the demanding life of fire and rescue vehicles in a single axle envelope. Engineered with extra wide bearing surfaces to provide high yaw stability resulting in stable and predictable cornering. The robust design provides enhanced ride quality, superior cab protection and significantly reduced maintenance expenses. Now you have the ability to match the demands of the most challenging emergency situations.
View Product Details